Research Aims to Provide Affordable Prosthetics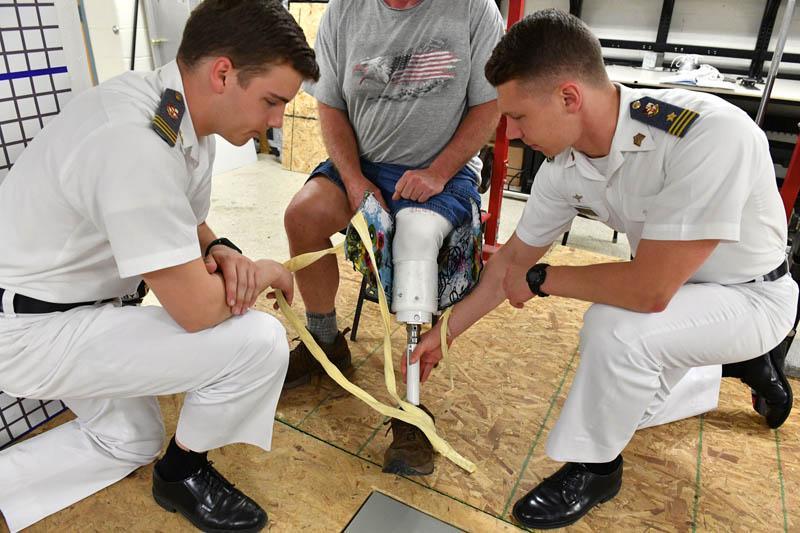 LEXINGTON, Va., April 24, 2017 – A project underway in the mechanical engineering lab at VMI may someday help amputees in developing countries.
Maj. Joyce Blandino, assistant professor of mechanical engineering, has led a group of three cadets in her capstone class, mechanical engineering design, in their quest to develop a low-cost prosthetic for below-the-knee amputees.
Blandino explained that she's had an interest in prosthetics since graduate school, but until she and Col. Mike Krackow, professor of physical education, teamed up two years ago on a biomechanics project, she had no way of testing her ideas.
Their 2015 receipt of a Jackson-Hope Fund grant to purchase a force plate and an electromyography machine, which records electrical activity produced by muscles, provided Blandino with the equipment she'd need to test the forces acting upon an artificial leg.
"I don't want to just design and build," said Blandino. "I want to be able to test it. You can design and build anything you want, but without testing, there's no meaning."
Blandino's prosthetics research began with last spring's capstone class, which developed a basic prosthetic, but with a rigid ankle that greatly limited the user's mobility on inclines. This year's cadets – Cody Ellis '17, Spencer Jefferson '17, and Philip Jewett '17 – were tasked with taking last year's design and improving it.
The three cadets took separate directions to reach that goal. Ellis used RecurDyn, which is computer-aided engineering software, to produce a walking gait simulation – and he also did an honors thesis on his research. Jefferson and Jewitt, meanwhile, focused their efforts on making the design more dynamic for a greater range of motion.
"This year our purpose was to create a design that would allow the ankle to flex and create greater mobility on inclines," explained Jefferson. "It's definitely been a challenge, but it's been a great project to work on."
Jewett, meanwhile, said that he'd found that patience and the willingness to experiment were key in developing the flexible ankle.
"Your initial ideas aren't necessarily what come to fruition," he commented. "Just knowing that 'simple is usually better' applies."
Simple is a word well used to describe this year's model, as the primary building materials are PVC pipe and steel. "We're trying to approach it in a very quantitative way," said Blandino. "We want to make a low-cost [prosthetic]."
Like Blandino, Jewett stressed that prosthetics, especially the higher-end ones, aren't cheap.
"Part of the goal of this is to come up with a low-cost prosthetic for third-world countries," he stated. "A lot of times prosthetics will be thousands of dollars. Our test subject is looking at ones that cost $10,000."
In the future, Blandino would like to focus research on improving the fit of the upper part of the prosthetic, where the amputee's stump attaches.
"You want to develop something that's comfortable for the user."
- Mary Price
-VMI-