Model UN Makes an Impression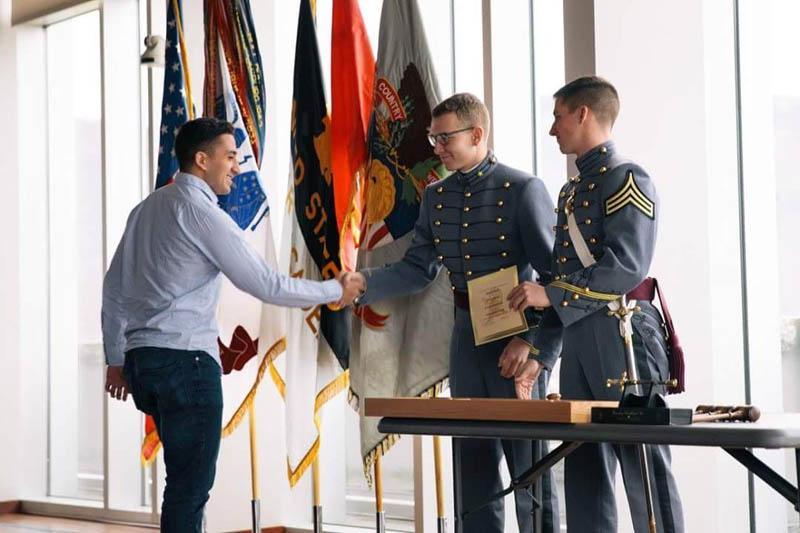 LEXINGTON, Va. April 24, 2017 – VMI's Model UN team has had official club status for only a year, but it is already making an impression among teams at other schools with much longer experience.
After participating in the United States Military Academy's Model UN conference in late February this year, Chase Antony '18 received honorable delegate award, third place, and Emmanuel Ocampo '19 received fourth place.
Placing against academically accomplished schools like Georgetown and Princeton University produced a new level of confidence among the team.
"We definitely punched above our weight," said Ryan Nagatoshi '18, president and head delegate of the club.
Going into the event with a competitive attitude and a strong background in the event topic, the Pacific Command, helped.
"It was in the forefront of everyone's mind," said Antony. "Number one: make sure we represent ourselves well, make sure we're treating everyone with respect… but also show everyone that we're here to be serious competitors."
The team members practiced twice a week for a month leading up to the event by role playing and thinking of possible scenarios that might be presented. They were already familiar with problems in the South China Sea, so they were aware of some of the issues that might come up.
Dr. Vera Heuer mentors the group, and she has found that VMI cadets also have an advantage that students from other schools don't have.
"I've noticed that cadets at VMI don't need to be told how to speak up and hold their ground. That is pretty much natural for them," she said, "which means that we can focus more on getting the background information for them."
Model UN conferences are also social events as much as they are academic.
The host school decides which competitors deliver the best arguments. That can be based on presentation as well as engagement and personality of the presenters.
The cadets stayed at West Point during the trip, which they found to be a "parallel universe," but the rest of the attendees were from the civilian world, most of whom will probably never serve in the armed forces.
Both Nagatoshi and Antony plan to commission when they graduate, and most of their peers on the team are committed to serving their country in some way.
"People from a school like Georgetown, Princeton or Harvard are probably going to be the ones writing the policy," said Nagatoshi. "We're the people going out and implementing that policy."
Mixing the two perspectives was good for both sides. So good that Georgetown University invited the VMI team to their conference in October 2017.
"The plan for next year is we're doing two conferences, one per semester," said Nagatoshi, hoping that they can participate in both Georgetown's conference and West Point's conference again.
Whether or not they can go will depend on how much funding the team has. Last year's trip to William and Mary was funded entirely by the International Studies department, but this year, since they were registered as a club, the dean's office was also able to help fund them.
"Our long-term goal would be [to host a conference at VMI]," said Heuer. "But if we can keep the club going and always have enough interest, that would be ideal."
- Kelly Nye
-VMI-