Rodriguez Speaks on Life after War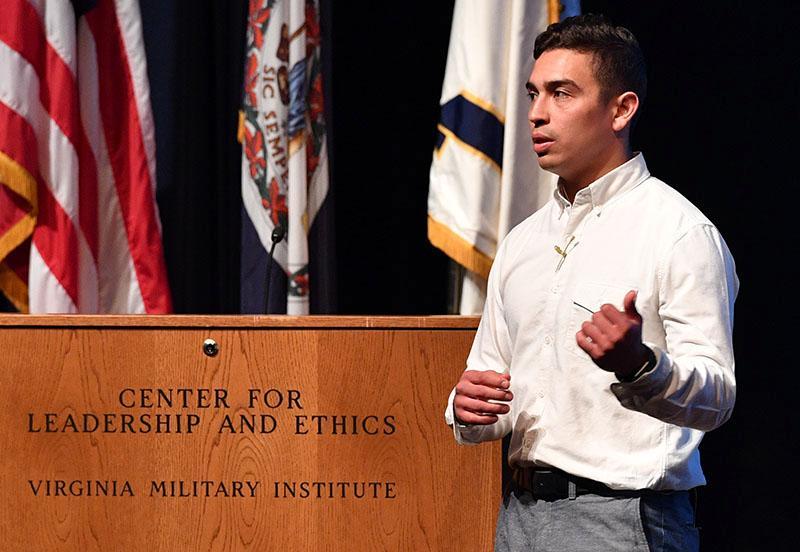 LEXINGTON, Va., March 3, 2017 – Veteran and author Daniel Rodriguez spoke in VMI's Gillis Theater last night on overcoming adversity following deployments to Iraq and Afghanistan to find success playing football at Clemson University and graduating with honors.
Rodriguez looked back on his own experience in war and athletics to emphasize the importance of striving towards goals and finding purpose in the effort.
During his deployments, Rodriguez lost friends, including Pfc. Kevin Thompson. Rodriguez had talked with Thompson often and made a promise to play college football after coming back from war.
"I had this voice in my head of Thompson telling me that these dreams are going to carry us through the low times in our lives," said Rodriguez. "I remembered that promise I made to Thompson."
For Rodriguez, striving to fulfill that promise pushed him to move past the war and helped him heal from PTSD.
"Goals are your lifeline to pull you out," said Rodriguez. "Are you going to have regrets down the road, or are you going to have expended every piece of ammunition you've got to obtain what you want?"
His talk was punctuated with video from his deployments to Iraq and Afghanistan, and included a detailed description of the battle at Combat Outpost Keating.
"For six hours we were fighting out of our position; I threw 52 hand grenades," said Rodriguez.
"There's a term called 'going Winchester' when a B-52 bomber dumps its entire payload at one time. It happened once in Afghanistan in 2001. We had it happen two times on Oct. 3, 2009," said Rodriguez. "We had 2,000 pound bombs drop within a football field of us. We were begging for them because we were being hit so hard."
After 18 hours, the battle was over. Eight Americans had been killed and 125 Taliban fighters were dead inside the outpost.
"I remember getting off that battlefield and thinking, 'What did I just go through? Where am I at right now?'" said Rodriguez. "It's a psychological battle in war when you've put as many friends as I have in the grave and then have to go back out on a mission."
After coming home from Afghanistan, those psychological battles continued for Rodriguez as he struggled with alcohol and PTSD.
It was Rodriguez's promise to Thompson to play college football that helped put distance between him and the war. So he started single-mindedly training towards that goal.
"People thought I was trying to get in shape," said Rodriguez. "I was trying to get away from the war. I was trying not to think about Oct. 3, 2009 – to not think of the 24 friends I've put in the ground."
Rodriguez fulfilled that promise and graduated from Clemson with honors in the process. Just as he did on the battlefield and the football field, Rodriguez says he now finds purpose in motivating others and living his life to honor those he's lost.
"You hit that transition point where you say, 'Ok, I have stability in my life, I've come out of this low place in my life,'" said Rodriguez. "There are other people still there and I've got to be a man and throw them a rope and show them there's a way out."
Rodriguez is the author of Rise: A Soldier, a Dream, and a Promise Kept, in which he relates his story. He held a book signing following the talk and met with cadets throughout the day yesterday and this morning, including those on athletic teams and in the Leadership Book Program.
– Maj. John Robertson IV
–VMI–