'Thirst to Do the Right Thing'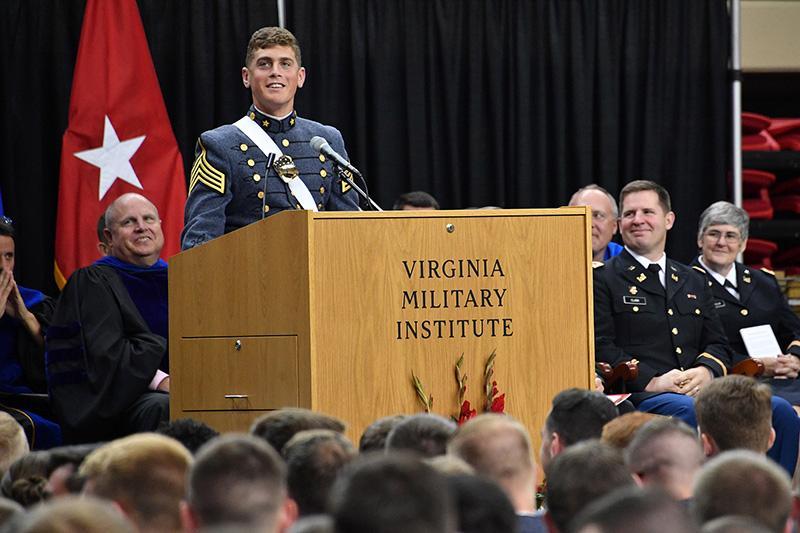 LEXINGTON, Va., May 16, 2017 – In commencement exercises held earlier today in Cameron Hall, 319 graduates of Virginia Military Institute were exhorted to live lives of character, honor, and service.
Over 300 members of the Class of 2017 received diplomas, with graduates who matriculated with other VMI classes accounting for the rest of those crossing the stage. By the end of the summer, 172 new graduates will have commissioned into the armed services, representing 54 percent of this year's graduates.
Gen. J.H. Binford Peay III '62, Institute superintendent, told those graduating that they must keep learning as they enter a complex and rapidly changing world. "Stay informed," said Peay. "Stay clear-headed. Be inquisitive. Stay informed about the challenges facing whatever community that you live in."
Peay also reminded this year's graduates to hold onto the concept of honor that the Institute strives so hard to inculcate. "People will hold you to a higher standard because you are a VMI graduate," he stated.
Taking up this theme and carrying it forward was Marine Corps 2nd Lt. Drew Borinstein, valedictorian of the Class of 2017 and recipient of the Jackson-Hope Medal for highest attainment in scholarship, along with the Cmdr. Harry Millard Mason Academic Proficiency Award.
Borinstein, an applied mathematics major and business minor from Shelbyville, Indiana, used the occasion of his remarks to joke with his Brother Rats about the hardships of the Institute before delving into the heart of his message: that VMI graduates are uniquely poised to bring courage and character to a world in desperate need of those qualities.
"VMI has molded us to embrace concepts that are contrary to what we see in the world around us," said Borinstein. "In an increasingly sensitive world, VMI has made us durable. In a chaotic world, even keeled. In a self-centered world, selfless. And in a dishonest world, honorable. … Our world is desperate for leaders with real honor and integrity."
A distinguished graduate with Institute Honors who maintained a 4.0 grade point average at VMI, Borinstein urged his fellow graduates to realize that even as they celebrate their accomplishment of graduating from VMI, now is not the time to stop reaching higher.
"Now we need to press on toward bigger and better things," said Borinstein. "Don't let VMI be a high point. Go out and make a difference … Do what you can to make this world a better place."
Like Peay, Borinstein reminded his listeners that honor is the bedrock of character. "Give no person any reason to doubt your authenticity," he counseled. "Desire to be that man or woman of habitual integrity. Thirst to do the right thing … Keep climbing those mountains."
Introducing this year's graduation speaker, Gen. John P. Jumper '66, chairman of the VMI Board of Visitors, was Hamp Beddoes, president of the Class of 2017. Before ceding the floor to Jumper, Beddoes advised the underclass cadets in attendance to remember that people are what make a place, and that their time at VMI is fleeting.
"You're never too busy to go throw the football with your friends," said Beddoes. "In the end, it's the relationships that you'll remember the most."
In his remarks to the graduates, Jumper urged them to study and learn the lessons of history. He quoted the Pulitzer Prize-winning historian David McCullough as saying, "We cannot know where we are going unless we understand where we have been."
With that sentiment in mind, Jumper gave his listeners a brief historical review of the events of World War I and World War II, as well as the American Revolution. He encouraged the graduates to visit sites such as the Normandy beaches where the D-Day invasion took place, as a sense of history is palpable there. He also recommended that they read and appreciate documents such as the Constitution and the Declaration of Independence.
"Today when you cross the stage, recognize that it's not a finish line," said Jumper, who served as the 17th chief of staff of the Air Force during his nearly 40-year military career. "It's a starting line."
And as the new graduates move out into the world, Jumper encouraged them to carry the core values of VMI with them.
"The nation and the world are begging for the values you are equipped to deliver," he said. "Do not let us down. … Be selfless. Look for the greater good. Strive to be part of something bigger than yourself."
In addition to the first Jackson-Hope Medal, two other awards were presented during today's ceremony.
The second Jackson-Hope Medal for second highest attainment in scholarship and the Col. Sterling Murray Heflin 1916 Academic Proficiency Award were presented to Army 2nd Lt. Austin Bajc. He graduated with a bachelor of arts in history, a minor in Asian studies, and a minor in national security.
The Society of the Cincinnati Medal for efficiency of service and excellence of character, along with the Richard J. Marshall and Sumter L. Lowry Awards, was presented to Army 2nd Lt. Luke Phillips. Phillips, who double majored in biology and chemistry, was the No. 1 ranked cadet in the nation in Army ROTC this year.
-Mary Price
-VMI-