Cadet-Created Map Improves Visitor Experience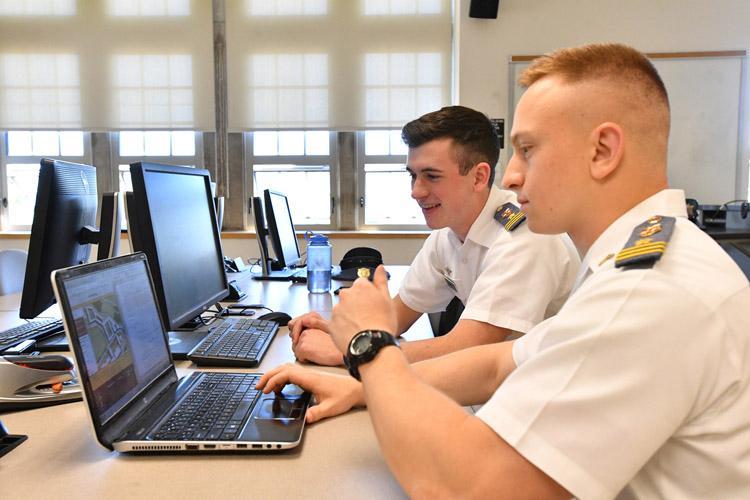 LEXINGTON, Va., May 23, 2017 – For first-time visitors to VMI, a static map on a computer screen might not help them find their way around post. That is why Cadets Brian Colitti '17 and Marc Howe '17 decided to create a virtual map for VMI's website as their senior capstone project.
"We thought it would be a great way to contribute to the professional image of VMI. Our inspiration is that we want VMI to remain as one of the top schools in the nation after we leave," Colitti said.
Their faculty advisor Maj. Sook Ha, computer and information sciences assistant professor, offered up the idea to her capstone class and the two cadets volunteered to take it on.
Ha was a newcomer to VMI last year and it was hard for her to find a specific place on the static map, she said.
"I learned many universities have this type of map and visitors can use it. They can type the building name and find it on the map. We can make the same thing," she said.
The two decided to be partners on the project because they are in Air Force ROTC and the VMI computer and information sciences program together.
The first semester of the capstone is devoted to designing, creating a formal proposal, and planning for the project. Colitti said they looked at other interactive maps and created a database of VMI building pictures and the histories on each building.
The second semester is when the cadets created the map using JavaScript and a mapmaking tool called "Mapplic."
When using the map, visitors will be able to click on each building and a pop-up box will show pictures of a building and a description of each building's history. In a search box, users can search by function and building name.
"It truly does feel awesome to have a map that everyone will use and see. It fulfills our motivation for doing this project in the first place, which was to help people experience post in an online environment. We know that cadets, faculty, alumni, and visitors will all use this map to find information in a user-friendly environment," Colitti said.
Colitti's main role was learning how to present the map to users. Howe worked on creating the database for the information.
"Working in a team with our adviser was a great learning experience about how to handle large projects in small groups. Although we won't be working in the computer science field, this is a necessary skill for all jobs," Colitti said.
Both cadets have commissioned into the U.S. Air Force and will be headed to Laughlin Air Force Base in Texas this month.
Ha said she plans to collect user feedback on the map after the cadets graduate and may propose improvements to the map as another capstone project in a couple of years.
"Mr. Colitti and Mr. Howe did a great job in developing a web application that provides useful information to VMI's public web audiences, especially prospective cadets and anyone planning to visit post," said Lt. Col. Kate Crossman, director of online communications and branding.
"I imagine the map will help create a stronger sense of place to those who view the Post online while providing useful navigational help for those who visit in person," she said.
- Ashlie Walter
-VMI-