VMI's All-Americans Box in Cocke Hall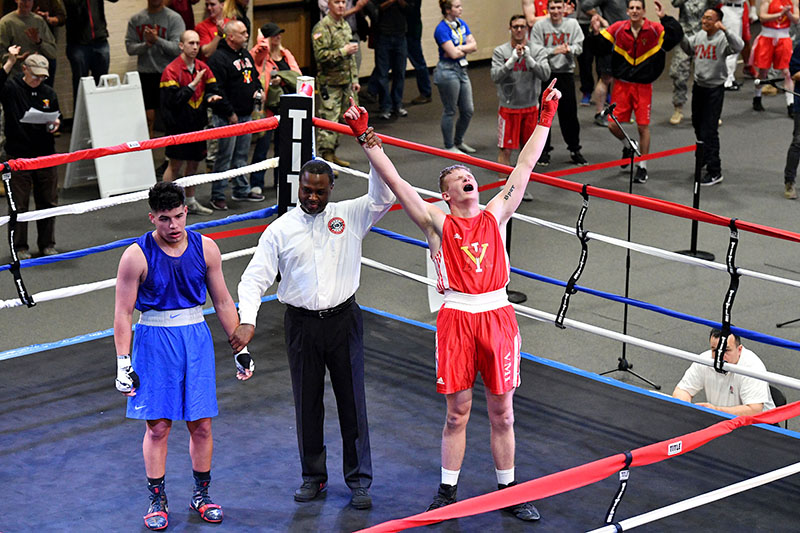 LEXINGTON, Va., March 24, 2017 – The USIBA national championships are currently underway at Virginia Military Institute, with semifinals set for tonight, March 24, at 6 p.m. in Cocke Hall on the VMI post. Finals will be held tomorrow, Saturday, March 25, at 4 p.m., also in Cocke Hall. The entire tournament can be seen at vmi.edu/livestream.
Last night in the quarterfinals, two VMI fighters, Natalie Carroll '17 and Chealsea Sias '17, both won their bouts and thereby earned the status of all-American. The two women are VMI's first female all-American boxers.
Overall, VMI's boxers went 8-3 in the quarterfinals. "We're very proud of their performance so far," said VMI boxing coach Larry Hinojosa. Last year, the VMI boxing team placed third in the national championships.
VMI boxers will compete in 10 bouts during tonight's semifinals.
More than 150 boxers, both men and women, are competing in this year's event. The competitors represent over 20 colleges and universities with a geographic range from San Francisco to Miami. This is the first time that VMI has hosted the USIBA boxing championships.
Tickets for the semifinal event are $10 per person, while tickets for the final events are $15 per person. Tickets are being sold at the door for both events, and children under 5 years old are admitted free of charge.
-VMI-