Six Keydet Boxers Win Individual Titles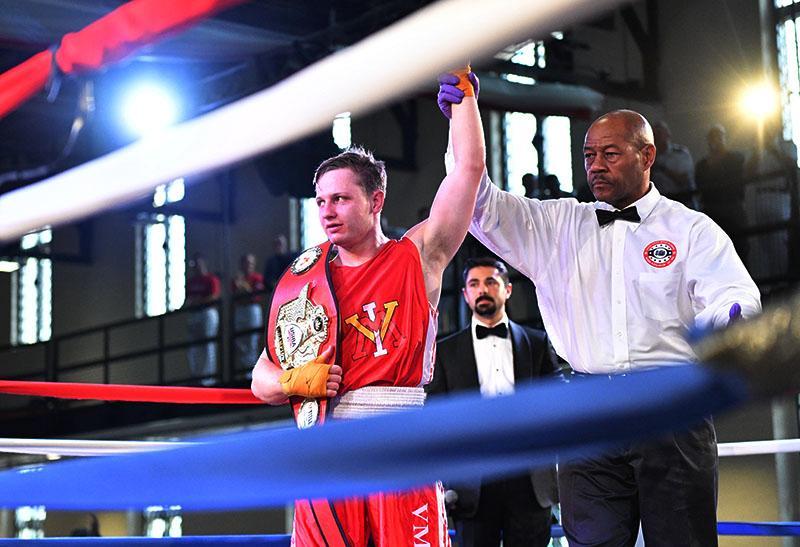 LEXINGTON, Va., March 27, 2017 – Six VMI boxers fought their way to individual titles, and the men's club battled to a second-place finish at the United States Intercollegiate Boxing Association National Championships held last weekend in Cocke Hall.
For the first time, VMI entered female boxers into the competition, and Chelsea Sias '17 came away with VMI's first distaff title. Sias, fighting in the 152-pound beginners bracket, defeated Kyle Kennedy from the University of Miami by a majority decision in their three-round bout.
On the men's side, six VMI fighters reached the championship round, with five of them earning belts. Included among the winners for the Keydets were Nathan Miller '17, Ryan Freiwald '18, Mike Marta '17, Samuel Shaffer '18, and Sivaatasi Mathias '17. Jeremiah Sokol also reached the finals but fell in his last match of the tournament.
In the 141 novice division, Miller won his title with a majority decision over Michigan's Mike Henry, while Freiwald took the 165 beginner title with a unanimous decision over C.J. Cochran from Michigan. Marta, in the 178 beginner bout, scored a technical knockout over James Cunningham of Miami, while Samuel Shaffer defeated Michigan's Brendan Conard. Mathias, in the 201 beginner battle, defeated Michigan's George Lancaster when the referee stopped the fight early in the third round.
Michigan won the men's team title, with the Keydets finishing a close second and Olivet taking third. The Wolverines won the women's team championship as well, followed by Maryland and Georgetown.
-Chris Floyd
– VMI –