Cadets Contribute to Defense Development at Aberdeen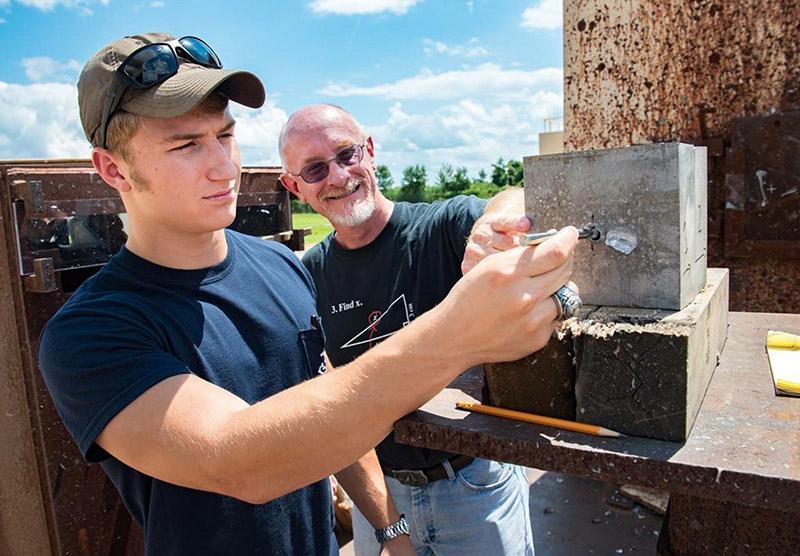 LEXINGTON, Va., Sept. 6, 2017—Two cadets spent their summer furlough working at the Army Research Laboratory/Aberdeen Proving Ground in Maryland on projects to improve today's military.
Col. Joe Blandino, professor of mechanical engineering, said this is only the second time in recent history that the mechanical engineering department has placed cadets at Aberdeen.
"The internship is a great way to expose a future officer to Department of Defense research and development," Blandino said.
Dr. Carl Krauthauser, a researcher at Aberdeen, approached Blandino in the spring of 2016 because he was interested in having VMI cadets involved in his research, specifically cadets on the commissioning track.
"This is unique," said Blandino. "[Aberdeen] sees an advantage in hiring officer candidates. Private companies usually do not want to hire cadets who will be going on active duty into internships since they will not be able to fill a full-time position with the company after graduation," Blandino said.
He added the advantage for Aberdeen in hiring a cadet on a commissioning track is that the cadet often has a security clearance and he or she can contribute to classified programs.
David Tyler V '18 interned at Aberdeen for almost 11 weeks on different projects but could not detail many of the projects because of their classified nature.
One project he worked on that was not classified was testing the penetration rates of aluminum armor plating with the Materials Research Directorate Protection Division.
"Since arriving I have had the opportunity to witness some of the armored plates being shot with various caliber weapons. Observing these shots has definitely been my favorite part," he said during his internship.
He added this internship has allowed him to observe how much goes on behind the scenes developing resources that will be used by the armed forces. He shadowed an engineer/technician who showed Tyler how much time and effort is put in by civilians and military alike for research and development.
Tyler is a mechanical engineering major who plans to commission into the Air Force and attend flight school.
Arthur Yee '20 spent a little less than eight weeks interning at Aberdeen. The focus of his project was ballistic clay and how it interacted with projectiles.
He explained that the Army uses a clay similar to basic modeling clay as a backing for body armor when conducting ballistics tests. Armor is placed over a clay mound and then shot at with projectiles such as bullets.
The body armor will stop the projectile, but the resulting cavity left in the clay can be used as a quantitative measurement of the effectiveness of the body armor. The material properties of ballistic clay are difficult to characterize because it deforms easily and is dependent on environmental factors, such as temperature and rate of deformation, he said.
To help his mentors characterize it, Yee conducted compression tests on clay samples at various temperatures and compression rates. Then, he and others at Aberdeen compared the data at different conditions to determine the impact temperature and compression rate had on the ballistic clay samples.
Work is ongoing at Aberdeen to determine mathematical models to accurately calculate their effects, Yee said.
"From my internship, I have gained a newfound appreciation for what I have learned in my classes, especially my materials class, as this is the first time I have been able to utilize my knowledge in a professional work environment and see that what I am learning is the same exact stuff that full-time employees are working with," Yee said.
He added it is not very common for a college student, having just completed his or her first year of college, to be selected for an internship opportunity. But it is gratifying to see what he learned from one year at VMI is already applied to a work environment.
Yee plans to commission into the Army before pursuing a career in the mechanical engineering field.
Blandino said cadets were chosen based on their interest and qualifications, with the final selections made by Aberdeen.
He said the department is working with VMI alumni to build a relationship with the Naval Surface Warfare Center in Dahlgren, Virginia. In the past, cadets have been placed at the Air Force Institute of Technology in Ohio.
"The VMI [mechanical engineering] department produces exceptional engineers who are capable and practical," said Blandino. "We want to get these engineers involved in high-profile research programs within the Department of Defense. These internships help them develop into the successful professional engineers and leaders of [research and development] programs."
The research comes on the heels of another project in the mechanical engineering department that took place in the spring, in which 1st Class cadets completed design work on a small unit riverine craft (SURC) for the U.S. Navy.
Col. Gerald "Jay" Sullivan, professor of mechanical engineering, explained that the project got underway after Capt. Robert "Bob" McMasters, professor of mechanical engineering, heard from a Naval Academy classmate of his that the Naval Surface Warfare Center, Carderock Division, could use some help. McMasters' classmate is now a technical director at the Carderock Division, which is headquartered in Potomac, Maryland.
Tackling that challenge as their required 1st Class capstone project were Tyler Corcoran, Brandon Conley, and Austin Roe. The trio worked under the guidance of Sullivan to design an automated ramp and bow door for the SURC. The SURC is designed to transport an unmanned ground vehicle, which needs to be able to go down the ramp and reach the beach without human intervention—thus the need for an automated ramp and bow door.
"It was an ideal student project—it involved mechanical design; it involved stress analysis; and then it also involved doing a controlled system design," explained Sullivan. "Projects like these are particularly good for our mechanical engineering [cadets] since they serve a critical military mission, and typically involve multi-disciplinary engineering solutions."
-Ashlie Walter and Mary Price
-VMI-