Woodruff to Speak at VMI Convocation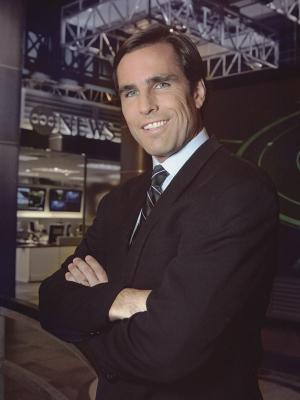 LEXINGTON, Va., Sept. 1, 2017—Television journalist and traumatic brain injury survivor Bob Woodruff will speak at Virginia Military Institute's academic convocation, to be held Wednesday, Sept. 6, at 11 a.m. in Cameron Hall.
Woodruff was serving as co-anchor of ABC World News Tonight and reporting from Taji, Iraq, when the vehicle he was riding in was struck by an improvised explosive device (IED). The bomb, impacted with rocks, struck Woodruff on the left side of his head, fracturing his skull and affecting much of the speech and language portions of his brain. Woodruff spent 36 days in a medically induced coma before he could begin a months-long rehabilitation. Eventually, Woodruff was able to return to the world of television news, but no longer in the anchor chair.
Just over a year after his injury, Woodruff returned to ABC News with his first on-air report, To Iraq and Back: Bob Woodruff Reports, which was honored with the prestigious Peabody Award in 2008. Woodruff continues to cover traumatic brain injuries for all ABC News broadcasts and platforms.
He and his wife, Lee, have also chronicled his journey in a best-selling memoir, In an Instant. Thanks to Woodruff's experiences coming back from a traumatic brain injury, the Woodruff family established the Bob Woodruff Foundation (BWF) to raise money to assist injured service members, veterans, and their families.
In 2014, Woodruff was awarded the third highest honor within the Department of the Army Civilian Awards, the Outstanding Civilian Service Award, for substantial contributions to the U.S. Army community through his work with the Woodruff Foundation.
During his talk at VMI, Woodruff will share his insights on overcoming adversity, even in the face of intense trauma and uncertainty.
A native of Bloomfield Hills, Michigan, Woodruff graduated from Colgate University and went on to earn a law degree from the University of Michigan Law School. In 1989, Woodruff was teaching law in Beijing, China, when CBS News hired him as an on-screen interpreter during the Tiananmen Square protests. That experience prompted him to change careers, and he began working as a correspondent for several local TV stations. Woodruff was hired by ABC in 1996.
Woodruff is the first of two H. B. Johnson, Jr. '26 Distinguished Speakers coming to VMI during the academic year. On Oct. 30, Laura Ingraham will deliver the keynote speech during VMI's 8th Annual Leadership Conference "Speaking Truth to Power: Candid & Courageous Civil Discourse."
–VMI–