Conference Offers Lessons on Discourse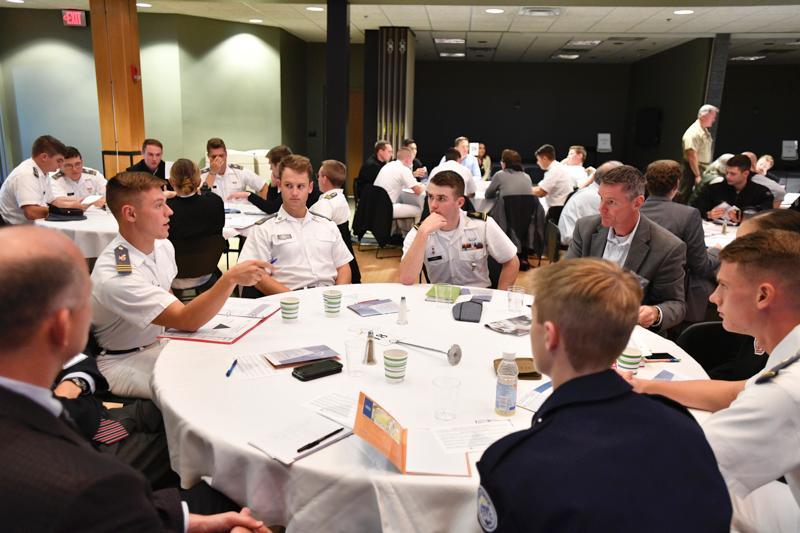 LEXINGTON, Va., Nov. 1, 2017—After the 2016 Presidential election, there is an idea that Americans are more divided than ever over politics, ethics, and even how to have a debate in a civil manner.
Nearly 300 VMI cadets, students from other institutions of higher education, and members of the public heard viewpoints from across the political spectrum on how to foster civil discussion at VMI's eighth annual Leadership and Ethics Conference, "Speaking Truth to Power: Candid and Courageous Civil Discourse."
"The biggest thing is sitting down and listen to someone, understand where they are coming from," said Alex Warren '18 following the conference.
Speakers and panels discussed discourse in realms including politics, the military profession, and journalism.
Of particular interest to those pursing a military career, Eliot Cohen, political scientist and the Robert E. Osgood professor at John Hopkins University and retired Lt. Gen. Gregory Newbold spoke in a panel session Monday afternoon, discussing the relationship between military and civilian leadership.
They were followed by Leonard Wong, a research professor at the U.S. Army War College, who spoke at length about the "ethical fading" and "ethical numbing" that allows people to rationalize unethical behavior.
"We take the spotlight of what is right and wrong and we fade it away," said Wong.
Conference keynote speaker, Fox News judicial commentator Judge Andrew Napolitano spoke on Monday night, introducing attendees to the idea that freedom of speech is a natural right for all human beings, not granted by the government.
"The right to hold and express an opinion is natural to our humanity, and even the majority can't take it away," he stated.
The following day, a panel of media professionals discussed the state of journalism. The panel included Washington and Lee University Media Ethics Professor Aly Colon; Matt Gertz, a senior fellow at Media Matters for America; and Seth Mandel, the op-ed editor at the New York Post.
Mandel said credibility is important in an age of social media that can expose biases among journalists, especially on Twitter.
"When reporters start a job, they don't flash the 'Men in Black' stick [and lose their memory]. You have opinions, thoughts; that is the biggest challenge," Mandel added.
Colon, noting that the title journalist is fluid and comes with gifts and responsibilities, also emphasized that credibility and verification are important tenants of journalism, and suggested that journalists realize they have biases and learn to identify them and strive to stay objective.
Center for Leadership and Ethics Director Col. David Gray, who moderated the panel, asked how anonymous sourcing should be used and why. Mandel responded by saying when there is an article with anonymous sources, it's important to ask why this source might want the information out there but not their name.
"In general, there is a crisis in trust in authority… really high negative partisanship. Anonymous sources are a staple of journalism," Mandel said.
He advised attendees, when reading articles containing anonymous sources, to look at balance and the motive of the source.
Every year, attendees join partners with differing backgrounds to tackle the ethical leadership challenge. This year, teams were given a scenario via video and tasked with reaching a consensus on how they would handle the situation.
Sharyl Attkisson wrapped up the conference by discussing themes in her latest book, The Smear: How Shady Political Operatives and Fake News Control What You See, What You Think, and How You Vote.
Attkisson described the various networks that political operatives might use to control a story, such as Media Matters for America, which she traced to liberal political operatives. When asked how to find out the truth in a news story or which news organizations to trust, Attkisson said she doesn't trust or recommend any organization.
"Anything I see or read, I don't think that it's false but I don't believe it's true," she said.
Capt. Catherine Roy, communications and marketing specialist with the Center for Leadership and Ethics, noted that the conference was well received based on the long lines of cadets queued to ask questions of the speakers after their speeches.
-Ashlie Walter
-VMI-