'Confront the Crisis in Ethics and Integrity'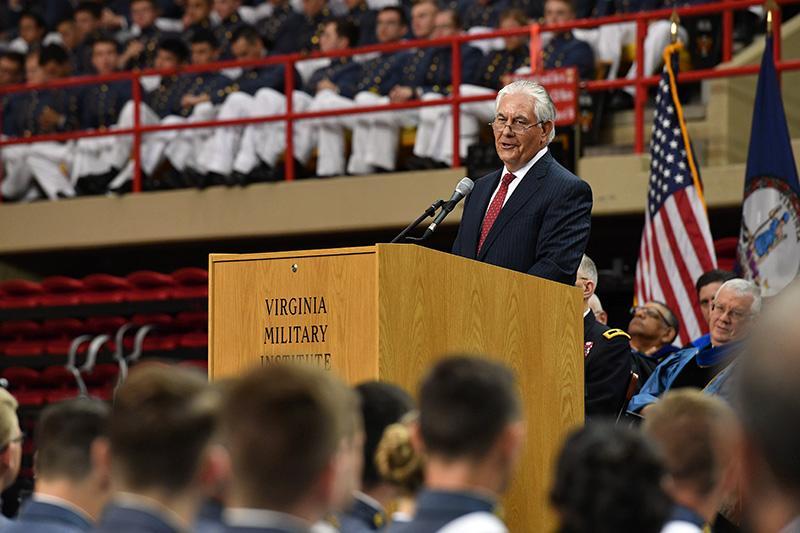 LEXINGTON, Va., May 16, 2018—Former U.S. Secretary of State Rex Tillerson urged the 373 graduates of Virginia Military Institute to take their part in upholding the nation's democracy by guarding truth and integrity.
Tillerson, who served as secretary of state from February 2017 to March 2018 after retiring as chairman and CEO of ExxonMobil, told the graduates today that America is facing a growing crisis in ethics and integrity. In reflecting on this, Tillerson said he often thinks of the words from the gospel of John inscribed above the entrance to the main building at his alma mater, the University of Texas at Austin: "You shall know the truth, and the truth shall make you free."
A free society, Tillerson noted, must have access to the truth. "Freedom to seek the truth is the very essence of freedom itself," Tillerson stated. "It is only by a fierce defense to the truth and a common set of facts that we create the conditions for a democratic, free society comprised of richly diverse peoples."
The former secretary of state went on to say that if the country's leaders conceal truth or we as citizens accept without question their version of the truth, then American democracy itself is in peril.
"A responsibility of every American citizen to each other is to preserve and protect our freedom by recognizing what truth is and is not, what a fact is and is not, and begin by holding ourselves accountable to truthfulness and demand that our pursuit of America's future be fact-based," said Tillerson.
Tillerson argued that it is this commitment to truth and facts that binds us in alliance to other democratic nations and sends a message of resolute commitment to nations suppressing the freedom of their citizens. "It is truth that says to our adversaries that we say what we mean and we mean what we say.
"When we as people, a free people, go wobbly on truth, even on what seems the most trivial of matters, we go wobbly on America," he remarked. "If we do not as Americans confront the crisis of ethics and integrity in our society among our leaders of both the public and private sector, regrettably even among the nonprofit sector, then American democracy as we know it is entering its twilight years."
Addressing the soon-to-be graduates, Tillerson said they could only make a difference in the world by girding themselves with integrity. "If you truly want to build a brighter future for the world, you must make the decision to live a life of integrity. … Choosing a life of integrity brings a wealth of blessings and benefits."
The Class of 2018 is the largest graduating class in VMI history, noted Gen. J.H. Binford Peay III '62, in his remarks. Altogether, 373 graduates crossed the stage earlier today, with 355 of those representing the Class of 2018. This year's graduates came from 37 states and four foreign countries. International studies was the major with the highest number of graduates, at 61, while civil engineering had the second highest, at 52.
More than 220 men and women from the class were commissioned into the armed services the day before graduation or will be over the summer, marking a commissioning rate of 60 percent for the Class of 2018.
Three members of the Class of 2018 received special awards during this morning's ceremony.
The first Jackson-Hope Medal for highest attainment in scholarship and the Cmdr. Harry Millard Mason Academic Proficiency Award were awarded to Army 2nd Lt. Jarred Doran, a distinguished military graduate who earned a bachelor of science degree in biology.
The second Jackson-Hope Medal for second highest attainment in scholarship and the Col. Sterling Murray Heflin 1916 Academic Proficiency Award were awarded to Army 2nd Lt. Victor Kolle, a distinguished graduate with Institute honors who earned a bachelor of arts degree in economics and business with a concentration in financial management.
The Society of the Cincinnati Medal for efficiency of service and excellence of character was awarded to Ross Schmeisser, who earned a bachelor of science degree in mechanical engineering and a minor in mathematics. Schmeisser also received the Richard J. Marshall and Sumter L. Lowry Awards, which are presented to the recipient of the Cincinnati Medal.
- Mary Price
-VMI-