'More than One Goal of the Rat Line'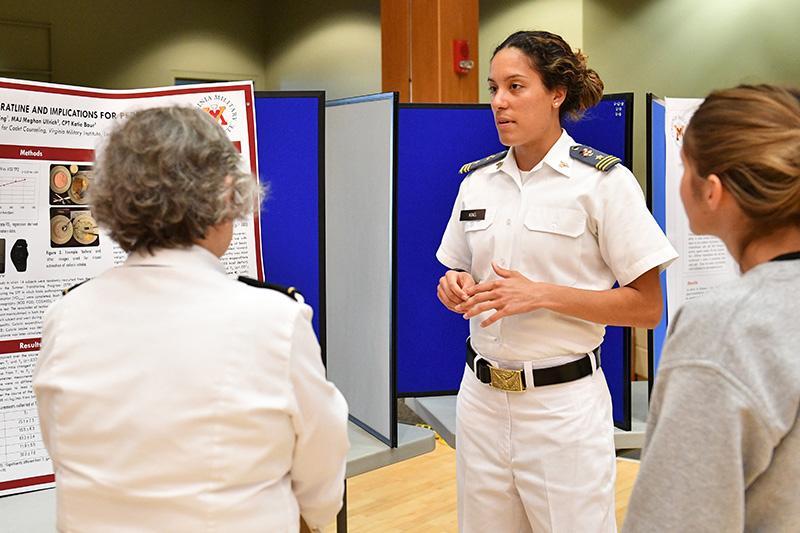 LEXINGTON, Va., Aug. 10, 2018—As the newest group of matriculants arrives Aug. 18, they'll begin a training regimen designed to test them both physically and mentally. By the end of the Rat Line, cadets will become more physically fit, but at what cost? Research helmed by Bethany King '18 and Capt. Katie Baur, physical education instructor suggests the answer is an average of four pounds lost, caloric deficiencies, and lack of sleep.
The pair recruited 15 male cadets and measured what they ate, how much they exercised, and the number of hours slept during their first semester at VMI. To measure the number of calories burned off during exercise and hours slept, the cadets were given Polar M200 fitness trackers.
Calories eaten were measured by pictures taken of all their food. The rats were also given a fitness test before and after the semester.
"We found some good things. Significantly, the caloric deficit during Hell Week—rats weren't in an optimal state of training, they were in a catabolic state and they lost weight because of this," King said.
Those rats also lost muscle mass, not fat, which could reduce the beneficial effect of training, Baur said.
On average, the participants burned about 4,500 calories daily over the eight days of Matriculation Week and an average of 6,500 calories during the three toughest days.
Despite consuming a large amount of calories, about 3,700 on average, they were still burning more than they were eating. However, that imbalance was lessened as the semester went on.
The two points in time when the data from the trackers was collected was after Matriculation Week and again in late October or early November. The rats lost a significant amount of weight during the first point in time, but the losses were temporary.
"It seemed Hell Week was intense, but it corrected itself. They gained the weight back," King said.
Their food intake was on target for protein for athletes, but Baur noted their carbohydrate intake was low for the amount of training they were doing. The optimal ratio for carbohydrate intake for athletes is 60 to 70 percent of calories, while the rats were only getting an average of 53 percent.
While the rats were learning to adapt to their new routine, King said she was learning herself how to conduct the research.
"We planned and planned but something always came up. We originally had a schedule for them to charge the watches but we had to track some people down because these are human subjects," King said.
Baur added the hardest part was working around VMI's strict schedule. The rats came in when they had time to do the treadmill fitness test, while, at other colleges, the optimal research method would be for them to do the test first thing in the morning.
As for sleep, the trackers noted an average of only six hours of sleep a night, which is less than the optimal seven to nine hours for their age group, King said.
"We can speculate that the structure here was a factor, especially during Hell Week. They are up at 5:30 a.m., going nonstop until 10:30 p.m. or 11 p.m. Even when they start classes, the rats are up at 6:15 a.m. for chores and they go to bed at TAPS at 11:30 p.m.," King said.
The study did find the rats experienced significant improvements in cardiorespiratory fitness.
King said they still have other parts of the study to wrap up, such as a questionnaire to all study participants on their satisfaction with the food they ate and any injuries or illness they endured. Once completed, they hope to publish their findings. Also in the future, Baur said she hopes to continue the study but with only athletes, women, or look at just the caloric cost of Matriculation Week.
King and Baur also noted that one goal of the strenuous Rat Line is not just to improve their fitness but to test them mentally.
"There are other goals of the Rat Line, not just getting them physically fit," Baur said.
-Ashlie Walter
-VMI-