'Get Put Out of Your Comfort Zone'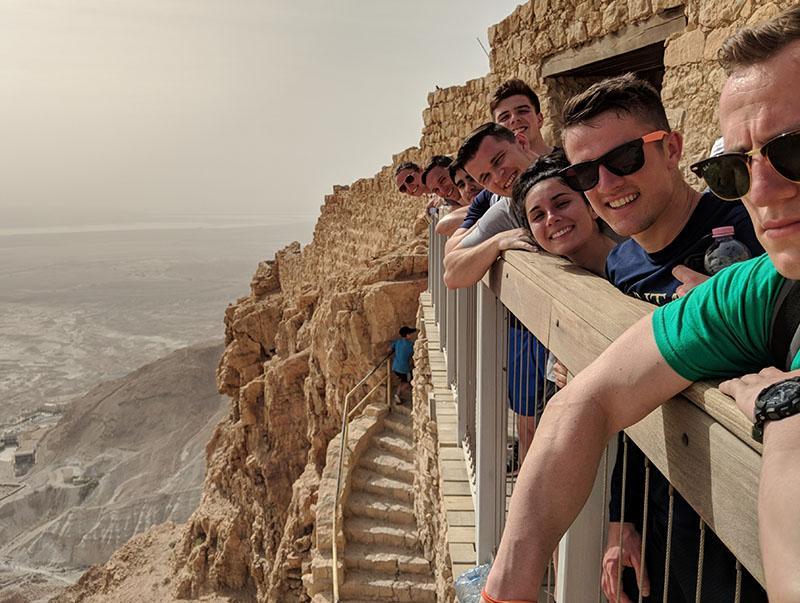 LEXINGTON, Va., May 4, 2018—Ongoing for several years now, a Spring Furlough trip sponsored by the Olmsted Foundation has taken cadets to many places across the globe, from Vietnam to Poland.
This year, though, eight cadets and three faculty members from the Department of History had an entirely different experience as they traveled to Israel over spring furlough.
"The Olmsted Foundation gives us a lot of freedom in terms of picking locations," explained Maj. Houston Johnson, assistant professor of history, who was making his fourth Olmsted trip this year.
"Israel is a really interesting place geopolitically in terms of U.S. policy, and also with the cultural, religious, and ethnic history and tension, we thought it would offer the cadets a really interesting opportunity for cultural immersion," he continued.
The Olmsted Foundation, which provides the funds for nearly all trip expenses, offers cultural immersion opportunities for cadets planning to commission into the armed services, with the goal of broadening the world view of future officers.
Israel is a small country—roughly a third of the size of Maine—but its layers upon layers of cultural and religious history meant that the travelers had to move at a brisk pace to pack in all that they wanted to see.
Among the sites the group took in were the old city of Jerusalem, where Judaism, Christianity, and Islam all claim a place; Masada, the site of King Herod's fortress; the Golan Heights, an area that Israel annexed from Syria in 1981; and the Dead Sea, where the extreme salinity of the water makes swimmers float with ease. Other stops included Acre, a battleground city for medieval Crusaders; the ancient Roman city of Caeserea; and Tel Aviv, the second-largest city in Israel.
The group kicked off its stay with three days exploring Jerusalem. On Sunday, March 25, which was Palm Sunday, the group traveled the Via Dolorosa, or way of sorrow, which is believed to be the path walked by Christ en route to the crucifixion, and they also visited the Church of the Holy Sepulchre, which is built on the traditional site of the crucifixion.
"That was a very powerful and moving experience," said Grant Fudge '18. "I was kind of speechless going through there."
But Jerusalem, like all ancient cities, looks to the present as much as the past. While in the city, the cadets and faculty members met with representatives of Combatants for Peace, a group trying to resolve the Israeli-Palestinian conflict simmering ever since the nation of Israel was established in 1948.
"It is a very polarized situation over there, so to see these groups that were completely opposite working together was interesting," said Alexandra Hill '18. "I didn't expect that there was anything like that over there."
Johnson explained that the meeting with Combatants for Peace exposed cadets to a different perspective, that of the native Palestinians. "While you're in Israel, it's hard to get access to the Palestinian side," he noted. Thanks to a State Department travel advisory, the group was not allowed to visit the West Bank and Gaza.
The group had another reminder of Israel's fragile peace when they visited the Golan Heights. By a chance encounter, they were able to talk to two United Nations peacekeepers, one from Northern Ireland and the other from New Zealand. The two were charged with watching over the border with Syria to ensure treaties are being observed.
"The situation in Syria and Israel has garnered a lot of international attention," said Fudge. "Just to see a lot of different nationalities represented there really speaks to how important the region is in the world."
After learning about the region's conflicts, a trip to the Dead Sea provided an opportunity for some much-needed fun and relaxation. Fudge, who admitted that floating is a skill he's struggled to master, found not having to fight gravity a freeing experience.
"I was actually kind of skeptical at first, 'How can you float so easily?' because every time I'm in water, I sink like a rock," he said. "But getting in the Dead Sea, you just float. That was one of my favorite parts of the trip."
Hill said that while the language barrier was somewhat of a challenge, as Hebrew and Arabic are the most common languages spoken and not everyone knows English, she felt extremely safe while traveling in Israel.
"I was actually really scared about going to the Middle East," said Hill. "I was hesitant."
Thankfully, she soon found that there was nothing to be afraid of.
"It was so safe over there," said Hill. "Tel Aviv, Jerusalem—you wouldn't imagine how westernized these places are."
Both Hill and Fudge said they would recommend the Olmsted trip highly to other cadets.
"Just being in a culture, you understand it so much more," said Hill. "If you're seeking to travel, if you're seeking an adventure like that, you shouldn't be afraid. You should just go for it."
Fudge emphasized the personal growth that comes from foreign travel.
"It's an invaluable experience to go overseas and get put out of your comfort zone—understand other people, other cultures, and other ways of life," he commented. "It really puts life in perspective and allows you to be more objective … It opens your horizons and makes you want to learn more."
Also traveling on this year's Olmsted trip were Brian Macaluso-Stafford '18, Ian Horkan '18, Tyler Krug '18, Tripp Fitch '18, Christian Cartegena '18, Samantha Shepherd '18, Maj. Jochen Arndt, and Maj. John Matsui.
-Mary Price
-VMI-