New Cadets to Take Oath Sunday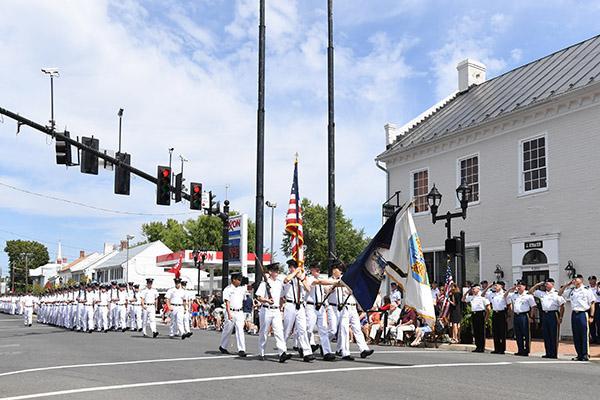 LEXINGTON, Va., Aug. 31, 2017—On Sunday, new cadets will learn about VMI's heritage in a day-long program held at the New Market Battlefield State Historical Park and will have three opportunities to visit with family throughout the weekend.
Starting Saturday from 2 to 10 p.m., new cadets will be allowed to go off post, but must be accompanied by a relative 23 years of age or older, a VMI faculty or staff member, or the parent of another cadet.
On Sunday morning, cadets will travel by bus to New Market Battlefield—about an hour's drive north of Lexington—where they will tour the museum and recite the New Cadet Oath administered by Superintendent Gen. J.H. Binford Peay III '62 at 11 a.m. at the Bushong House. Rats will receive their shoulder boards immediately after participating in the charge at 11:30 a.m.
Parents may observe the cadet instruction but not attempt to contact the cadets until the noon lunch break at the spectator viewing area.
After lunch, cadets will travel to downtown New Market for a parade at 2 p.m. down Congress Street/Lee Highway. Rats will return to VMI by 5 p.m. and may visit with family off post until 10 p.m.
For more information on parking and a schedule of events, visit the Oath Day webpage.
-Ashlie Walter
–VMI–