Parkhurst to Offer Fresh, Local Fare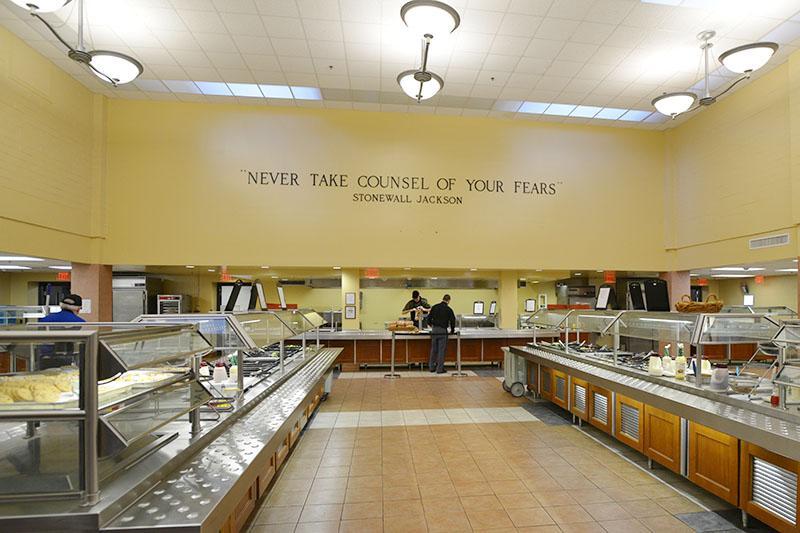 LEXINGTON, Va., Dec. 19, 2017—With the start of a new semester, cadets and staff will see new food offerings in Crozet Hall, at catered events, and in the PX.
Over Christmas Furlough, VMI's new food services vendor, Parkhurst Dining, will be working hard to install new equipment in Crozet, train staff, and stock the shelves.
"We have about two weeks to do the best we can," said Dave Shutt '82, director of board operations and associate general manager for Parkhurst and a retired Army colonel.
Most employees previously employed by VMI's former vendor, Aramark, numbering almost 100, were hired by Parkhurst. Aramark moved three upper-level management positions from VMI to other locations in the company. Shutt said Parkhurst is looking to hire part-time employees, especially for the new coffee shop and in catering.
Starting with the spring 2018 semester, cadets will immediately notice the change in the quality of the food at Crozet, said Brian Gooch, who will take over as executive chef at VMI after previously working in the same position at Bridgewater College.
He said he plans to bring many of the same ideas he used at Bridgewater to VMI, such as using local produce vendors like Cavalier Produce in Charlottesville and Local Food Hub, a nonprofit that helps Virginia farmers supply food to their communities.
"Everything's natural; if it's broccoli, it's coming on the stalk; potatoes, we boil them and mash. Everything's coming in as an actual fresh vegetable, actual piece of meat, unprocessed," he said.
Gooch said they are also looking at sourcing dairy from Wirtz-based Homestead Creamery and beef from Buffalo Creek Beef.
Local restaurants will be given chances to partner with dining services. Southern Inn Restaurant and Matsumoto Sushi have indicated their interest in a partnership, Gooch said. Greenberry's Coffee, a Charlottesville-based roaster, will move its offerings from the PX to Crozet Hall.
A big part of Parkhurst coming on board is building relationships with the Physical Education department and Athletics department. Shutt said many of the cadets they interviewed indicated a desire for cleaner, lean protein along with calorie-dense and nutritious foods needed for sports.
"The chef [Brian Gooch] went down and met with [Col. James Coale] and his staff and has taken it all to put together these menus. The PE department is saying 'we need good nutrition,' the athletic department said 'we need good calories,' and the cadets are saying 'we want it to taste good.' We want to make sure we are working with them," Shutt said.
Gluten-free and allergen-free foods will be offered as well as options for vegetarians.
For the PX, Parkhurst plans to change up the offerings and create more variety of food items. During the spring semester, a Starbucks coffee bar will be open along with a made-to-order submarine sandwich station. Grill items such as chicken sandwiches, burgers, and flatbreads will also be available. Stations open during the day will alternate between two or three items while after supper roll call, all stations will be open for cadets until closing.
The convenience item section will remain mostly the same, Shutt said.
Over the summer, construction will begin on remodeling the fronts, names and the convenience item section. The former Subway station will be replaced with Freshens, a restaurant offering crepes, salads, flatbreads, rice bowls, smoothies, and yogurt.
Amy Jo DeCarlo, director of catering, indicated improvements will extend to VMI's catering services as well. Boxed lunches for traveling cadets will be more customizable and at times mirror what is served in Crozet that day.
"We have met with all the coaches; all have come to tell us what they are getting in the box lunches and when they need it. We have developed a high-protein snack pack, with cheese and fruit, not as many cookies and chips," she said.
Gooch added that at one of Parkhurst's other locations they created a special, homemade granola bar for before, during, and after workouts.
Cookies, however, will still be sticking around, though perhaps with a bit more style. Parkhurst Dining is owned by Eat'n'Park Hospitality Group which also owns the Smiley Cookie franchise. That will allow the VMI team to offer custom cookie creations for special events on post.
—Ashlie Walter
—VMI—