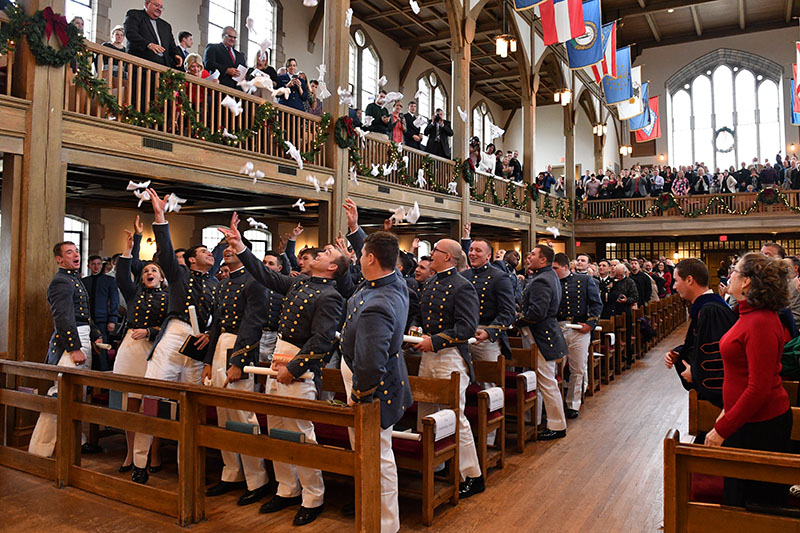 LEXINGTON, Va., Dec. 20, 2017—Forty-three members of the Corps of Cadets joined an exclusive group Wednesday morning in Jackson Memorial Hall.
That group, as members of the December 2017 graduating class, added their names to the short list of cadets who have graduated from Virginia Military Institute. In the 178-year history of the Institute, fewer have earned VMI degrees than a large university will graduate in a handful of years, and like most of those who preceded them, Wednesday's graduates were all smiles after the ceremony.
"Relief, accomplishment," said Gabriela Galvez '17, describing her emotions after receiving her diploma. "It's been a long, difficult road."
Like many of her fellow graduates, Galvez earned her fair share of honors during her four years at VMI, including becoming the first female cadet to win a national boxing title. That, she said, pales in comparison to holding that VMI diploma in her hand.
"This is better than winning the national title," Galvez beamed. "Winning the national championship was on my own. This was a collective. Everyone that helped me get to graduation came here."
But, as commencement speaker Eugene Williams '74 cautioned, Wednesday was just the beginning. And just because the December graduates are part of a select group, that does not make them special… yet.
"You are not special," Williams told the graduates, "but you can be. If you want to truly be special, you need to take this wonderful academic, leadership and character education that you have received and run towards the problems that you see in the world and work really hard to solve them."
Williams has surely embodied those attributes since he left VMI more than 40 years ago. The first African American and youngest man to ever be selected to VMI's Board of Visitors as well as a star on the football field with the Keydets, Williams has served his fellow man as a reader in elementary schools in Baltimore, Maryland; as a little league football coach; and as a member of Big Brothers in Washington, D.C.
He is best known, however, as the founder and director of the College Orientation Workshop, a program held every year at VMI to help develop positive attitudes and to help guide at-risk high school students. The Workshop is now in its 31st year.
He knows first-hand what a life of service is all about, and that is the message he wanted to convey to Wednesday's graduates.
"You have been sufficiently trained, and you are well-equipped to address [the world's problems] if you choose to," Williams said. "Young people like you will have to be the agents of change.
"You want to be special?" he continued. "Get into the fray and help make this world better than you found it, especially if you are as good and as capable as [we] think you are. Please don't be a bystander. The need for VMI men and women of character has never been greater."
At least one of Wednesday's graduates has already taken Williams's words to heart. Galvez has plans to join the Peace Corps, and before she heads in that direction, the psychology major will work as an elementary school teacher.
"You have to leave the place you are better than when you got there," Galvez said. "That has always been my message."
The message was very similar Tuesday night in Jackson Memorial Hall, when 10 of the graduates took the Oath of Office during the Commissioning Ceremony and became officers in their respective branches of the military.
Brig. Gen. Lapthe C. Flora '87, who was the featured speaker Tuesday and delivered the oath to the eight cadets who became lieutenants in the U.S. Army, warned that the task that faced the new officers was arduous, and that people like them were needed more than ever.
"Our country is in desperate need of transparent leadership," Flora said, "and I believe that you will fulfill that need.
"Being an ethical leader is not easy," he added. "Do not allow the momentary obstacles derail you. I firmly believe that approaching your life impediments with grit will allow you to surmount them. I have no doubt that you will lead our fellow Americans to the best of your ability."
Flora has lived it. As a child, he was forced to flee his native Vietnam during the conflict there, surviving in the jungle, overcoming the refugee camps and boarding a boat to America, where he arrived unable to even speak the language. Grit, he said, is what kept him going, eventually graduating from VMI and advancing to his present position as assistant adjutant general of the Virginia Army National Guard.
"True success is defined not by your natural abilities, but by the level of effort you put forth in life," Flora said.
He also acknowledged that true leadership is not defined simply by rank. It, he said, is about service.
"Leadership is all about serving others," said Flora. "It comes with great personal responsibility. From this day forward you will be held to a much higher standard. It is your solemn duty to serve the American people with character to bring honor to yourself, your family, your military service and our beloved VMI.
"All of you have the responsibility to differentiate yourself from that perverse form of leadership and to strive to be the ethical leader of the highest character," he continued. "The American soldier, airmen, marines and sailors deserve it, but more importantly, the American people demand it."
-Chris Floyd
—VMI—