Professors, Cadets Bring French to Local Kids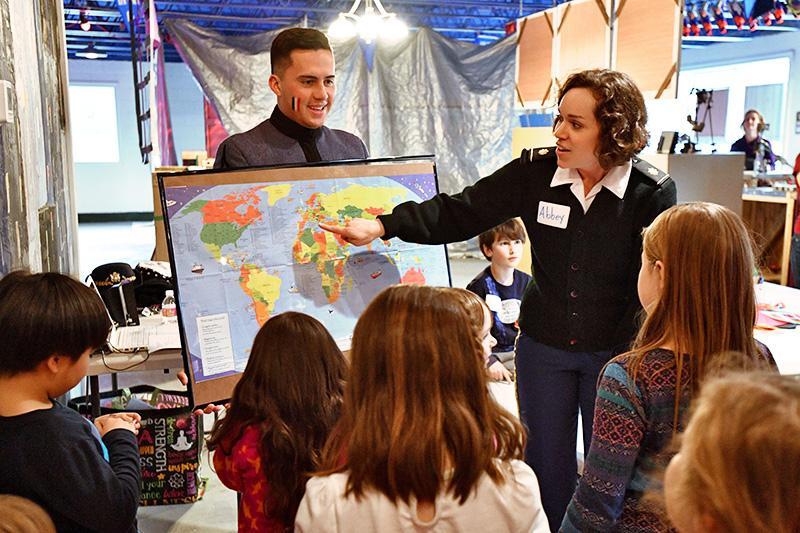 LEXINGTON, Va., March 15, 2018—Becoming more involved in the Lexington community was the goal of one professor and her students, which was made a reality through a partnership with the newly founded Discovery Heights Children's Museum.
For three weeks in February and March, assistant professor of modern languages and cultures Maj. Abbey Carrico and three of her cadets volunteered at the nonprofit museum to host a children's introduction to French class, kicking off the effort Feb. 16.
About 14 children, ages 4 to 8, attended that first class and learned beginner-level French phrases like "bonjour" and "s'il vous plaît."
Carrico was inspired to offer the class after hearing about the new museum's art history class for children.
"I had taught children before in France and I've been wanting to do something with local children; not just language, but also culture. I wanted to get cadets and fellow teachers involved," she said.
While teaching French to young children shares many of the same principles as teaching cadets, Carrico tried to make the lessons age appropriate and more kinesthetic for the classes at Discovery Heights by incorporating art projects.
She read a French children's book about Paris and Morocco and asked the children to repeat phrases from it. They also created flags out of construction paper from French-speaking countries and participated in a scavenger hunt.
To help teach the class, Carrico selected cadets who had shown interest in becoming more involved in the community and who were members of the French Honor Society.
Levi Harmon '18, a French major, volunteered for the class because he liked working with children and seeing them learn something new.
"I have two little sisters, and I liked teaching something they can relate to, to get out in front of people," he said.
Carrico's daughter, Vivian, joined her for the class, which helped encourage the other children to participate.
"She kind of brought the other kids out of their shell because she knew [the language]," Harmon said.
Kyle Hesse '18 said that as a French major he had "fallen in love with the language" and appreciated teaching it to children. He considered the class a good experience for them but also a way to expose the community to other facets of the VMI experience.
"Working with kids… was difficult at first. They don't know who you are. Some were hesitant and aloof, but once we started the flag exercise, it went a lot more smoothly," he said.
Annika Tice '18 has experience working with older children as part of her volunteer work with the leadership program at Maury River Middle School.
"I've never had an opportunity like this, working with younger kids," Tice said.
Carrico also encouraged other French speakers she knew to participate in the class, to expose children to other cultures that speak the language.
Dr. Sabrina Laroussi, assistant professor of modern languages and cultures, is a native French and Arabic speaker from Algeria. Laroussi teaches Spanish at VMI and brought her multilingual perspective to the class.
"I've taught French and Spanish to younger children, and I love children. It was a great opportunity to teach the language and francophone culture," Laroussi said.
Laroussi also cooked crêpes, classic French fare, for the children to try at the first class.
Carrico sees the value of bringing in French speakers from different countries and cultures and noted that another francophone community member from Senegal participated.
"The goal of that first class was to expose children to the whole world of French, not just France," Carrico said.
Carrico hopes to teach another class with the museum in the future.
"I had several parents come up and say they weren't able to sign up because the timing didn't work," she said, "I would really like to see something done in the summer for kids around here."
The museum was founded by Mollie Fox in January 2017, in response to the lack of educational opportunities for young children in the area. The closest children's museums are Amazement Square in Lynchburg and Explore More Discovery Museum in Harrisonburg. The museum is still in the fundraising phase, and Fox is using the first classes to generate interest in the nonprofit.
"We envision a physically and intellectually stimulating atmosphere where children are encouraged to learn and explore the world around them through hands-on exhibits that foster creativity, experimentation, teamwork, problem solving, and invention," she said.
Fox also wants to involve the whole higher education community in Lexington by tapping its talent of qualified professionals of faculty and students for classes and ideas.
The Discovery Heights Children's Museum is located at 312 S. Main Street. For more information on the museum, visit discoveryheights.org.
- Ashlie Walter
-VMI-