Rugby Team Reaches National Semifinals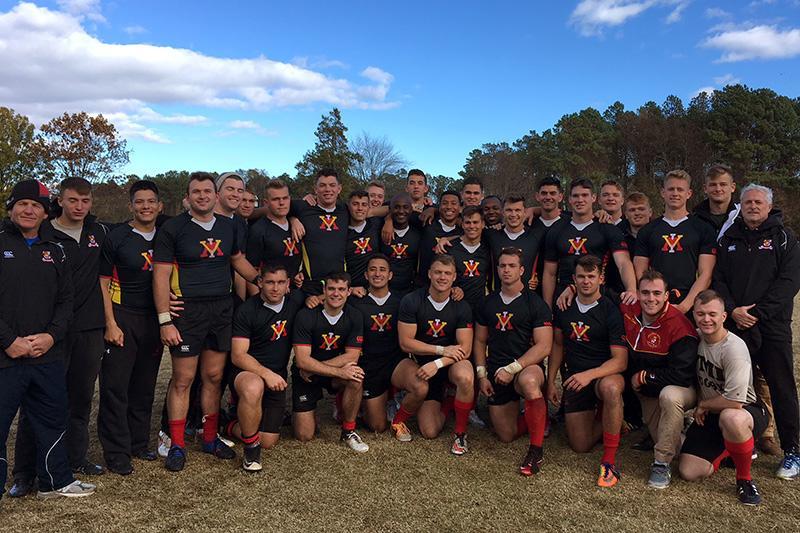 LEXINGTON, Va., Nov. 29, 2017—Most times, success isn't the result of luck. It's the outcome of consistent hard work and collaboration with others similarly committed to a common goal.
That's definitely the case for the VMI rugby team, which recently qualified for the national semifinals for the first time in the program's 50-year history. Playing in the Division II quarterfinals on Nov. 18-19 in Annapolis, Maryland, the rugby team defeated Rensselaer Polytechnic Institute and then Bloomsburg University of Pennsylvania.
On Saturday, Dec. 2, the Keydets will take on Norwich University at Furman University in Greenville, South Carolina. The winner of that game will advance to Sunday's final match, to be played against either the University of Wisconsin-Whitewater or North Dakota State University.
"It's an oiled-up machine right now," said Chance Dickson '18, who's been playing rugby since Breakout of his 4th class year.
"This was our goal coming into the year—to make to the national championships," added Corris Atkins '18, captain of the rugby team.
"We're clicking really well," said Dickson, who plays inside center. "Most of us are really good friends outside of rugby … that personal relationship with each other, we know each other so well, we've been together so long—it starts to become second nature."
Nine of the 15 starters on the rugby team are 1st Class cadets—thus the long relationships and close bonds among teammates. "These guys have been with me for three years," said Coach Wayne Howe. "They're basically putting it together. … We grabbed some talented athletes [after Breakout three years ago] and they stuck."
Another seven members of the team are 2nd Class cadets—and all of them, including four who got up at 4 a.m. to make the trip to Annapolis, made sacrifices on Ring Figure weekend to play in the quarterfinals. "They gave away quite a bit of their Ring Figure party, and it paid off for the team," Howe commented.
Dickson agreed, saying, "Without [the 2nd Class cadets], I don't think we would have made it this far."
Col. Tom Trumps '79, former commandant of the Corps of Cadets, has assisted Howe with the rugby team for the past several years. Over that time, he's seen the team build strength, both metaphorically and literally.
"It's not a fluke," said Trumps of the team's 13-1 record this season, in which the only loss was to North Carolina State University. "We've been recognized as a national-level team for about the last four years."
Trumps explained that VMI has won the Cardinal Conference championship, a Division II conference including 20 schools from North Carolina, Virginia, and Maryland, for three out of the last four years.
Part of the reason for the team's climb to national prominence, Trump believes, has been VMI's commitment to upgrading its athletic facilities. With the recent addition of a separate weight room for NCAA athletes in Cormack Hall, club sports participants—including members of the rugby team—have Cocke Hall, with its brand-new weight rooms, all to themselves.
Both Dickson and Atkins agreed that having an upgraded weight room has helped members of the rugby team up their game. The team only practices on Tuesdays and Thursdays, so team members are on their honor to run and lift weights as much as possible on off days.
"It frees up space," said Dickson of the split weight room facilities. "Before we had the second facility [in Cormack Hall], it was packed, it was crammed, you couldn't get done everything you wanted to get done in there."
Not surprisingly, it's the athletes who put it in the time in Cocke Hall who wind up as starters. "If you were to come to a game, the guys who are going to start, you're going to see them in the gym Monday through Friday," said Atkins. "You don't just show up and play."
A trip to Argentina over spring furlough earlier this year, in which team members played three games against Argentine teams, also boosted the team's performance this year, Atkins and Dickson believe. "We were playing really good rugby when we came back," said Atkins. "Coach Howe and Coach Trumps … they've put us in the best position possible."
And as the days tick away until the trip to Furman, team members are trying to make their mental game as tough as their physical game.
"We've got to focus on what's right in front of us," said Dickson. "We're all focusing on Norwich."
Atkins also noted the need for a clear mental focus. "Coach Howe and I talk about putting yourself in the best position to win, not only on Saturday but also on Sunday," he said. "We're not just showing up for the food—we're showing up to hopefully win."
-Mary Price
-VMI-