Ethics Team Attends Regional Competition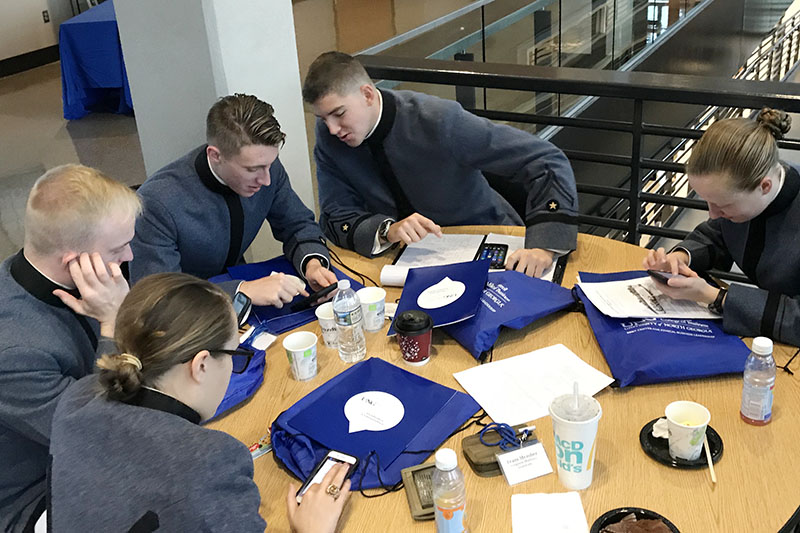 LEXINGTON, Va., Dec. 7, 2017—The VMI Ethics Team won two rounds at the Mid-Atlantic Regional Intercollegiate Ethics Bowl on Nov. 18, defeating the University of North Georgia—which hosted the event—as well as Davidson College. The team also tied with Augusta University and lost one round to University of North Carolina.
The Ethics Bowl required students to discuss ethical dilemmas, engage with different viewpoints and present their opinions in a coherent manner.
The five VMI cadets on the team were Carter Johnson '20, Madeline Barrett '20, Zach Shaffer '20, Rush Earman '18, and Tiernan Keast '20. Reagan Goulla '18 attended the competition as an alternate but did not compete.
The team is sponsored by the Center for Leadership and Ethics and coached by 2nd Lt. Rori Stubbs '17. Dr. Duncan Richter, professor of English, rhetoric, and humanistic studies, is the team's academic adviser.
Both Richter and ERHS instructor Tony Boese teach ERH 207—Ethics, a course that teaches the particular knowledge and skills tested in the competition. The broader ERHS curriculum also prepared cadets for success in the competition.
"These classes provide a fundamental understanding of ethical and philosophical principles, and how to integrate these principles in meaningful discourse. This foundational understanding, provided by a sundry of well-taught classes, helped prepare our team to compete at a high level," said Johnson, an ERHS major.
The cadets were judged on who won or lost, but also were awarded spirit points for good behavior. The VMI team were awarded numerous spirit points and the judges commented on the team's enthusiasm and teamwork.
-Ashlie Walter
—VMI—