Telescope Offers a New View of the Sun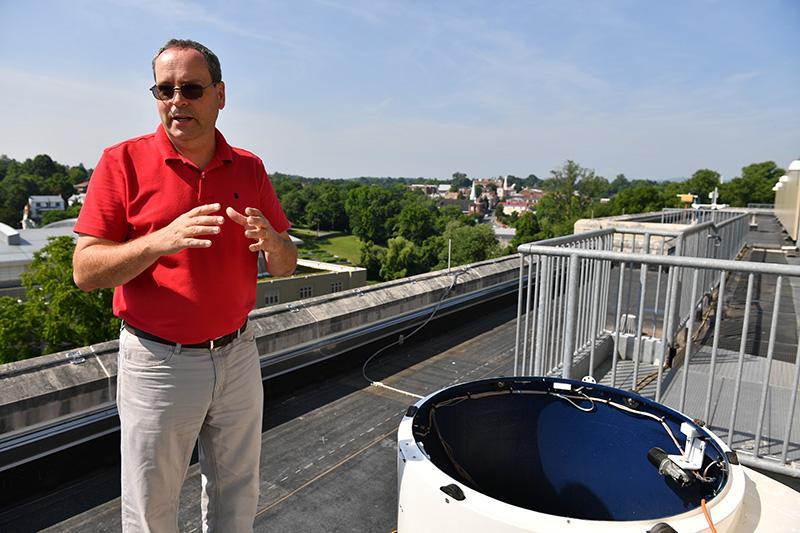 LEXINGTON, Va., July 13, 2018—This fall, astronomy cadets will have a new tool to aid in their studies—a remotely controlled solar telescope just installed on the roof of Maury-Brooke Hall.
In June, physical plant employees installed a small, white dome with a retractable door on the southern side of Maury-Brooke's roof that will house three separate telescopes to study the sun. One will be a 10-inch telescope with a calcium k-line filter for measuring the sun.
Col. Greg Topasna, professor of physics and astronomy, said he is excited about the new venture because he will be able to spend more time on observations with cadets than time setting up the machine.
"I would only have them for an hour or two during class time. Now they can start when the sun is up, and this gives them long-term data," he said.
The major benefit of the telescopes is seeing solar phenomena over time, using visualizations such the famous diagram called "the butterfly." When multiple images of the sun are captured over time, patterns can develop that look like a butterfly.
A small computer will be installed with the telescope allowing Topasna to control it remotely from his office in Mallory Hall. A weather station was also installed to measure when weather conditions are suitable for opening the dome. If the weather is not suitable, the dome will not open.
He said the new telescope would not compete with the 20-inch telescope housed in the VMI observatory at McKethan Park. However, he would like to see the same remote-control technology installed at the observatory.
The telescope and dome were paid for with departmental funds.
-Ashlie Walter
—VMI—