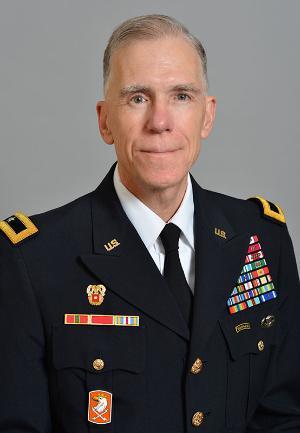 LEXINGTON, Va., Jan. 12, 2018—Brig. Gen. (retired) Jeffrey G. Smith, Jr. '79, deputy superintendent for academics and dean of the faculty, will resign from his position at the conclusion of this 2017-18 academic year, after four years of service to the Institute. After a brief leave, Smith will remain at VMI as a member of the faculty.
"General Smith's background as a cyber leader, and his work as dean in maturing VMI's transformational Computer and Information Sciences Department, make him the ideal fit for the CIS faculty, especially at a time when the nation is seeking a workforce of principled leaders to defend our interests in cyberspace," said Gen. J.H. Binford Peay III '62, superintendent.
"It has been an honor to have served as dean of my alma mater's faculty," said Smith. "Our educational framework is unique to this nation, essential to its security, and performing on a level consistent with the very best colleges in America. I believe you can trace that performance to the intellectual and moral development of cadets, provoked by VMI's remarkable faculty and staff."
Smith was named VMI's 10th dean in the spring of 2014, joining the Institute after the conclusion of a 34-year military career that culminated with his assignment as deputy commanding general of U.S. Army Cyber Command.
"General Smith's tenure has been marked by singular achievements along multiple lines of effort, accompanied by focused modernization of the academic program," said Peay. "Jeff has been a strong advocate for the faculty, and advanced the mission of the Institute with great energy and vision. He led our efforts to improve faculty pay, while enhancing the faculty's reputation as superb teachers, cadet mentors, and scholars in their respective fields. In particular, Jeff's stewardship of VMI's reaccreditation effort affirmed the Institute's reputation as one of the nation's premier colleges, whose academic program remains relevant and vital to the needs of our nation."
Under Smith's leadership, VMI has aligned curricula to account for national security and workforce needs in data analysis and cybersecurity, introduced computational skills as an academic requirement for future graduates, and planned the modernization of labs to exploit the revolution in information technologies. The number of cadets who major in computer science has more than quadrupled. The CIS Department has introduced its first minor in cybersecurity, which includes course contributions from six departments. Smith further implemented a "right-sizing" plan that focused on well-managed majors with "right-sized" enrollments and department faculty to insure small classrooms and instructor-cadet relationships vital to academic excellence.
"Whatever work I've led, it has been derived from a shared vision; and whatever outcomes we've achieved have been the consequence of exceptional teams built across the Institute, its agencies, the alumni, our board of visitors, and the state's political leadership," remarked Smith. "I am particularly grateful for the generosity of donors whose unprecedented contributions will ensure VMI's faculty are recognized for their individual excellence, and paid commensurate with their talent and sacrifice."
Smith added, "Deborah and I are grateful to each of you for your support and friendship over the past four years, and we anticipate hearing of your continued success in the years that follow."
A national search for a successor will begin shortly.
-VMI-