Improvements Slated for the Chessie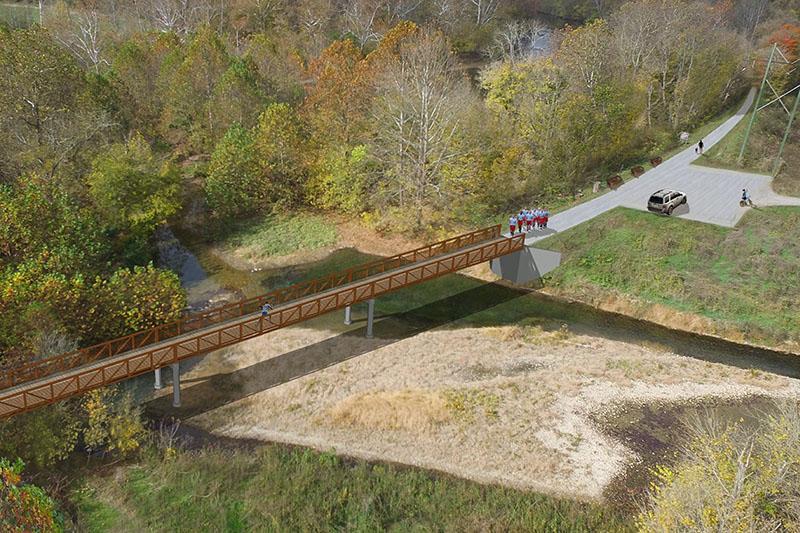 LEXINGTON, Va., Dec. 26, 2017—A long-awaited South River bridge on the Chessie Nature Trail may be a reality as early as 2019. In the meantime, Virginia Military Institute is improving parking along the trail, and cadets are engaged in projects to support events on the trail and to interpret the trail's importance to the community.
"We think it will be attractive to folks to go from Buena Vista to Lexington," said post engineer Col. Jay Williams '83. "It will be a huge asset to the community."
VMI, which manages the trail, received a grant through the Eastern Federal Lands Access Program to pay for the design and construction of the bridge. Currently, visitors to the trail must make a quarter-mile detour onto Stuartsburg Road around the site of the old South River bridge that was washed out by Hurricane Isabel in 2003.
Construction of a new bridge is slated to begin in late 2018 or early 2019. Williams noted VMI turned down a grant from the Virginia Department of Conservation and Recreation because of the grant requirements. However, VMI's matched portion of the grant will still be used for improvement to the trail.
Also new to the trail is a new parking lot off Old Buena Vista Road and a proposed second parking lot near the South River Bridge.
Col. Dale Brown, Institute planning officer, said a new parking area was created behind property located near 167 Old Buena Vista Road. Directional signs will be placed along the road. The entrance to the trail has been moved to the new parking lot, and there is currently no access to the trail between the East Lexington Bridge and this parking area.
Brown noted the situation may be temporary pending negotiations with landowners to reopen those portions of the trail currently closed.
Cadets have also been contributing to the trail's prosperity. During the fall semester, cadets in Maj. Stephanie L. Hodde's English, rhetoric, and humanistic studies class partnered with the Friends of the Chessie Trail to help support the Chessie Trail Half Marathon and 5K this fall and created educational signage to inform visitors of the area's rich history.
Hodde said the projects were based on two requests from the Friends group and the Chessie Trail Advisory Committee.
The requests were writing projects that would improve communications to the public such as "year in review" reports on the Friends' website, profiles of the volunteers, and signage with QR codes.
"The fieldwork course offers ERH majors ways to apply their understanding of rhetoric in local, cultural contexts. Engaging in a community problem involving multiple stakeholders gives cadets valuable perspective, as well as concrete experiences with community partners as they construct solutions," she said.
For the future, Williams is developing a master plan that brings together efforts of physical plant, cadets, and the community to ensure the trail's continued vitality.
—Ashlie Walter