'Willing to Go the Extra Mile'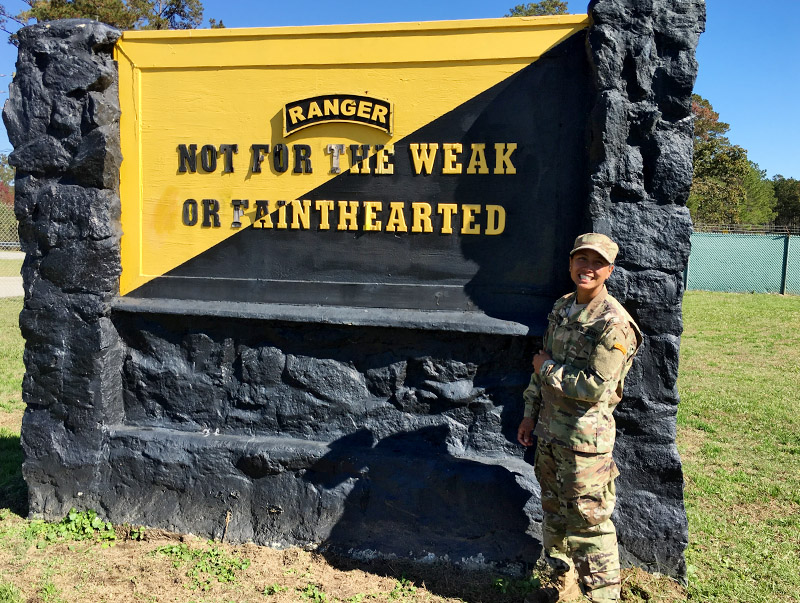 LEXINGTON, Va., Dec. 14, 2017—Nattachat "Nina" Srikongyos '15 recalled that during her time at VMI, the Ranger Tab was held in the highest regard. After watching the first women graduate from Ranger School in 2015, she was inspired to join their ranks.
Srikongyos graduated from Ranger School in November to become the eighth woman and the first Thai-American woman to successfully complete the training.
"It feels great to have completed Ranger school, not because I was only one of a few women, but because I set out a goal and I finally achieved it. It makes me proud because of what Rangers stand for, because of the men and women who have laid the path and paved the legacy of excellence in what they do and are willing to go that extra mile," she said.
After graduation from VMI, Srikongyos commissioned into the Army as a second lieutenant, assigned to the 82nd Airborne Division. She recalled a moment during training, when the operations sergeant asked new lieutenants when they were going to Ranger School.
"And when he came across me at the end of the line, he asked me the same. I said 'whenever you want to send me!' At the time I still remained reserved, because what do I know about actually passing the most coveted leadership school in the nation?" she said.
Other battalion leaders took notice and asked if she was serious, which she was. Then, she began exhausting preparations that included almost four hours of physical training a day. That same operations sergeant told her "don't embarrass the battalion." That phrase that stuck with her throughout.
Her first time through Ranger School, Srikongyos said nothing "clicked" for her and she was trying to learn everything while barely able to stay awake.
It was partly the Ranger haircut that gave her the determination to try Ranger School a second time.
"Guys' hair grows back within a matter of weeks; my hair beforehand went down to my waist. I couldn't care less about basically being bald, but the thing that bothered me was that it was a reminder every day, almost mocking me of my failures. I knew I couldn't walk away from it; I couldn't just leave things how they were and have that be my mark," she said about her determination to complete the school.
Ranger training was split between Camp Darby at Fort Benning, Georgia, known as the "Benning Phase;" the "Mountain Phase" in Dahlonega, Georgia; and the "Swamp Phase" at Camp Rudder in Florida.
Srikongyos noted the weather seemingly tended to extremes, with the heat index climbing to brutal levels at Camp Darby and plunging below freezing with miserable rain in the mountains.
Srikongyos said the VMI mentality also kept her going, pushing her to persevere though the pain, because it would eventually end. She connected with a couple alumni throughout training and Ranger School. Travis Gordon '16 and Sam Busche '14 also graduated with Srikongyos.
According to Col. Douglas Vincent '92, commander of the Airborne and Ranger Training Brigade, more than 15 VMI alumni have graduated from Ranger School in the past year and a half. Vincent previously commanded the Army ROTC unit at VMI.
"Ranger School teaches leadership and produces Rangers by placing them in the most severe, challenging and demanding situations possible, and then assessing how they lead in chaos. VMI does the same thing. I believe VMI generally produces an individual who is resilient, undaunted by adversity and meets challenges head-on, attributes that make a VMI graduate well-suited to succeed in Ranger School," he said.
Srikongyos is the first member of her family to go into the military, and she gives credit to them for always cheering her on.
-Ashlie Walter
—VMI—