Rugby Team Competes in Championships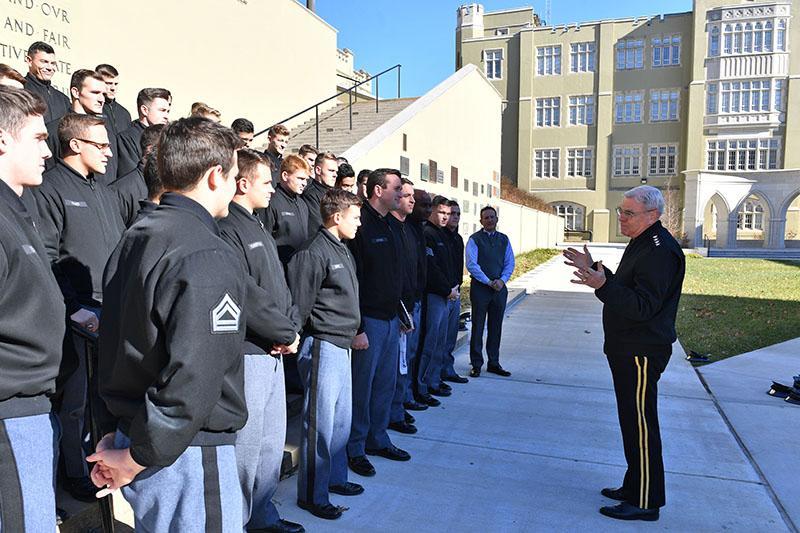 LEXINGTON, Va., Dec. 14, 2017—On Dec. 2-3, the VMI rugby team reached the highest level of play it has ever achieved in its 50-year history, defeating Norwich University before falling to the University of Wisconsin-Whitewater 32-27 in the Division II final game. Both games took place at Furman University in Greenville, South Carolina.
After a regular season in which only one loss was recorded, the rugby team traveled to Annapolis, Maryland, Nov. 20-21, for the quarterfinals, where the team defeated first Rensselaer Polytechnic Institute and then Bloomsburg University. They then qualified for the national semifinals at Furman.
"This was our goal coming into the year—to make to the national championships," said Corris Atkins '18, captain of the rugby team, a few days before the game against Norwich.
"It's not a fluke," said Col. Tom Trumps '79 of the team's record this season. "We've been recognized as a national-level team for about the last four years."
Trumps, who has assisted Coach Wayne Howe with the rugby team for the past several years, explained that VMI has won the Cardinal Conference championship, a Division II conference including 20 schools from North Carolina, Virginia, and Maryland, for three out of the last four years.
Howe noted that of the 15 starters on the rugby team, nine are 1st Class cadets, and the years they've spent playing together have paid dividends this season. "These guys have been with me for three years," said Howe. "They're basically putting it together. … We grabbed some talented athletes [after Breakout three years ago] and they stuck."
Howe added that he was especially proud of the team for making it all of the way to final game. "The team played out of their skins till the last moment and can hold their heads high," he said. "To a man, everyone stood up and did the Institute proud."
-VMI-