'A Soldier and a Global Citizen'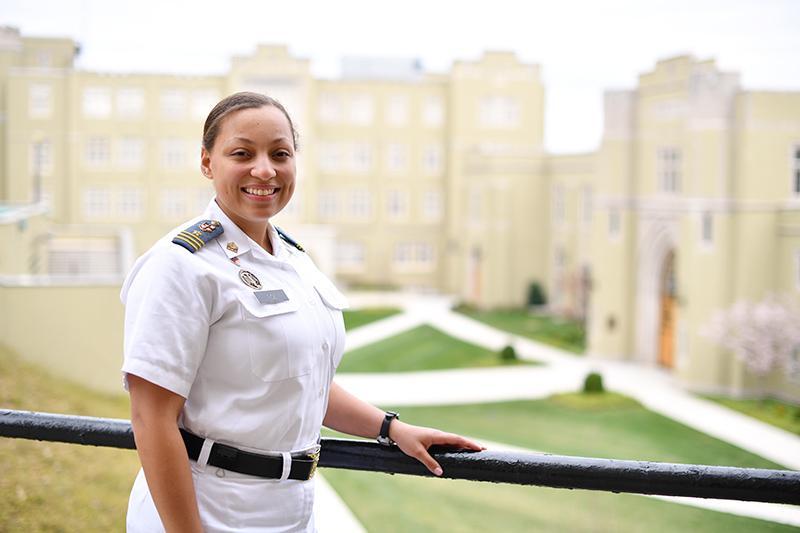 LEXINGTON, Va., April 4, 2019—Annika Tice '19, the first VMI cadet since 2001 to receive a Fulbright award, will use the opportunity to teach English in the Ivory Coast.
Tice, a double major in modern languages and cultures (French) and English, rhetoric, and humanistic studies, will defer her commission into the Army, where she's been selected to serve in the Adjutant General's Corps, to spend a year creating lesson plans for English language learners and assisting with an after school program run by the U.S. Embassy.
"I've always wanted to teach," said Tice, who is only the sixth VMI cadet overall and the first VMI woman to receive a Fulbright since the program's inception in 1946. "This experience will help me as a soldier and a global citizen, just to understand people."
Named for the late Sen. J. William Fulbright, the Fulbright program is designed to foster international exchange and cooperation. Over 1,900 Fulbright awards are made to undergraduate students each year, and more than 380,000 awards have been made over the program's more than 70 year history.
"This is one of the most widely recognized and prestigious international educational exchange programs in the world," said Col. Dave Hall '83, director of international programs. "Recipients are selected on the basis of academic and professional achievement, as well as their record of service and leadership potential in their respective fields."
Before Tice, the last VMI cadet to receive a Fulbright award was Brett Carter '01. Carter, who went on to earn a doctorate in government from Harvard University, traveled to Senegal courtesy of the Fulbright program.
"People associate Fulbright with elite colleges, but more and more small schools like us are starting to compete for these [awards] and actually win them," Hall added. "It gets you national recognition, too."
Hall believes that Tice's genuine dedication to teaching shone through in her Fulbright application and interview, and that's what impressed the Fulbright Foreign Selection Committee, a 12-member panel appointed by the president of the United States.
"Annika truly has a passion for working with kids and teaching young people," said Hall. "I think that had a lot to do with it."
Calling Tice a "consummate learner," Maj. Stephanie Hodde, assistant professor of English, praised Tice's intellectual curiosity and willingness to risk the unknown. The two first met when Tice enrolled in Hodde's public speaking class as a 4th Class cadet or "rat."
"I'd never had a student as enthusiastic about new ideas and new experiences as Annika," said Hodde. "She was always ready to fully engage at what was coming at her in the classroom … and make connections to her own personal journey as a learner."
A native of Pittsylvania County in rural Southside Virginia, Tice has long had a passion for education—and one that she developed in the wake of once being a struggling student herself. She found herself adrift academically when she first arrived as a ninth grader at Chatham Hall, a private, girls-only high school in Chatham, Virginia.
Perseverance—and becoming a boarding student rather than a day student—helped her through. As a cadet, she became interested in helping girls about to make the middle to high school transition, and in the spring of 2018, she began volunteering at Maury River Middle School, which serves over 600 students from Rockbridge County. At the same time, she worked with Maj. Abbey Carrico, assistant professor of modern languages and cultures, to teach French to young children in the Lexington area.
Those steps led to an even bigger challenge, as she teamed with Hodde to create the Girls Leadership Exchange, a camp for rising 7th through 9th grade girls held on the VMI post in June 2018. Tice has spent this academic year writing her Institute Honors thesis on the lessons she learned from the experience of planning and executing that camp.
Tice's maturity and sense of justice have not been overlooked by her peers. Two years ago, she became the first female to be elected to VMI's Honor Court. There, she's led an effort to focus on prevention of Honor Code violations.
"This year, our Honor Court really worked as a team to push that forward," said Tice.
As an Honor Court representative, Tice said she's tried to be "very transparent" in her dealings with fellow cadets. "As a leader, you're subject to the same rules as everyone else, and the best way to carry out your job is to relate to others," she stated. "Some people are afraid of you, or think you're above them. I've always tried not to make it that way."
As her cadetship wraps up, and her October departure date to the Ivory Coast draws near, Tice is grateful for the opportunities VMI has provided her. She's held rank in the Corps for the past three years, acted and helped out backstage with the VMI Theatre, worked on VMI's literary magazine, Cadence, and held a plethora of on-post jobs. She's also a member of Omicron Delta Kappa, the national leadership honor society.
Her advice for fellow cadets? Take wise risks, try new things, and don't be afraid to step out of your comfort zone.
"Don't feel like you have to stay in one place," she counseled.
-Mary Price
-VMI-