e-Club Supports Cadet Entrepreneurs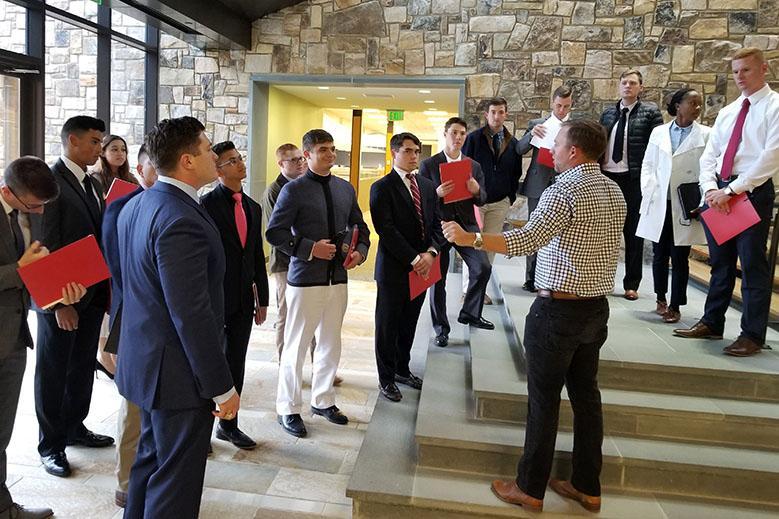 LEXINGTON, Va., Dec. 11, 2018—Any business professional will tell you that word of mouth is often the best form of advertising—and two professors in the Department of Economics and Business have found that to be true, as membership in the VMI Entrepreneurship Club, informally known as the e-Club, has quadrupled this academic year.
In existence since 2014, but revitalized this year, the e-Club has as its purpose bringing together cadets of all majors who are interested in entrepreneurship, creativity, and innovation as an outreach effort of the department's free enterprise program in innovation and entrepreneurship.
The club got a major boost in the spring with the Institute's inaugural Business Leadership and Innovation Summit, which brought more than 60 alumni to post to network with cadets and share lessons learned from the businesses they've started. Thanks in part to that initiative, the e-Club's numbers are now up to 40 to 45 cadets, whereas last year there were only 10.
"The program is designed as an entrepreneurial road map in seminars, workshops and experiential educational activities facilitated by various alumni entrepreneurs," explained Dr. Dekuwmini Mornah, associate professor of economics and business and one of the club's two faculty advisers.
With that goal in mind, meetings of the club are organized around learning from alumni, whether on or off post. This year's speakers have included John Williams '88, principal of the consulting firm Powell Strategies; John Kemper '68, a Richmond-based business consultant; and Rich Daughtridge '98 with the entertainment industry's High Rock Group, among others.
"The alumni have stepped up dramatically," Mornah noted.
Once per semester, e-Club members venture off post to meet with alumni entrepreneurs at their places of business. At the end of October, 20 cadets traveled to Richmond, where they toured Luck Industries, a family business that's been sustained by four generations of VMI alumni, and the New Market Corporation, a New York Stock Exchange-listed company whose chairman and CEO is Thomas E. Gottwald '83.
While in Richmond, the group also visited the 1717 Innovation Center, a coworking space for entrepreneurs, and unBoundRVA, a nonprofit organization co-founded by Richard Luck '12 which provides support to low-income entrepreneurs. At the 1717 Innovation Center, David Geary '19 got the surprise of his life when he was offered a job on the spot, with the possibility of an ownership stake down the road if he does well.
"You get a sense of what you can do outside of VMI from people who've been to VMI," said Col. Atin Basuchoudhary, professor of economics and business, who works alongside Mornah as co-adviser of the e-Club. Hearing alumni talk about their path to business success "generates a certain amount of interest and curiosity and excitement" among current cadets, Basuchoudhary added.
Back on post, e-Club members attend workshops on creating a business plan, selling effectively, and more. An upcoming workshop will focus on entrepreneurship in the military, public, and corporate sectors. This topic, both Mornah and Basuchoudhary noted, is of vital interest as both the Army and Air Force have expressed a desire to cultivate an entrepreneurial, innovative mindset in their officers.
In the spring, e-Club members have a networking trip to Washington, D.C., planned for March. The centerpiece of their spring activities, though, will be the second annual Business Leadership and Innovation Summit, to be held April 11-13, 2019, at the Center for Leadership and Ethics. This event will be sponsored by the Department of Economics and Business, the Center for Leadership and Ethics, and the VMI Alumni Association.
"We're hoping to involve the community as well," said Mornah. Getting Main Street Lexington involved is one goal, he explained, as that organization supports the Lexington Collaboratory & MakerSpace.
In addition, Mornah and Basuchoudhary would like to see partnerships between alumni and all faculty, not just those from the Department of Economics and Business, develop and strengthen.
"We're leveraging every resource that we can get to help cadets," said Mornah.
Funding for e-Club activities this academic year has come from the Charles Koch Foundation.
- Mary Price
-VMI-