Hoopes Named Nation's Top Army ROTC Cadet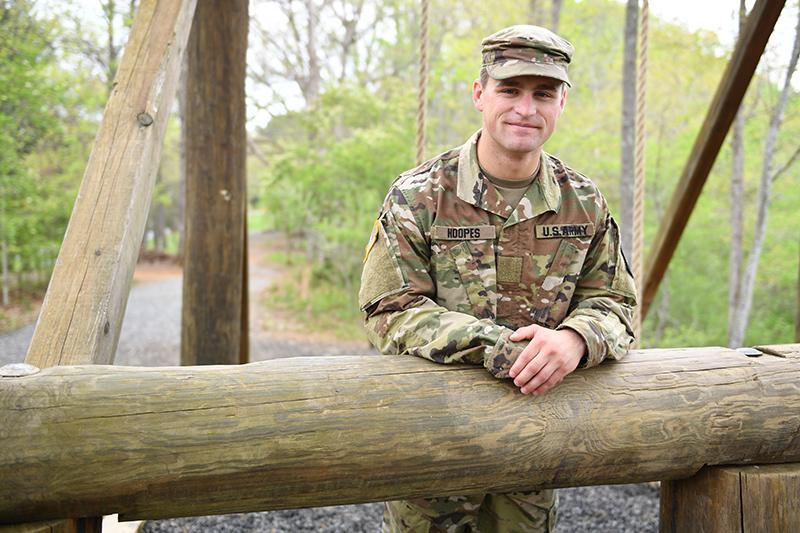 LEXINGTON, Va., Dec. 13, 2018—For the second time in three years, a VMI cadet has been ranked number one in the nation by the U.S. Army Cadet Command.
Alec Hoopes '19 holds the top spot on the Army ROTC's Order of Merit list, which is a comprehensive numerical ranking of all Army ROTC cadets in their final year of college. The rankings are based on a variety of factors, among them grade point average, performance on the Army physical fitness test, participation in extracurricular activities, leadership in ROTC, and performance at Advance Camp, which is a required summer training program for commissioning cadets.
This year's Order of Merit list contains approximately 5,500 names, according to Sean Cook, operations officer with VMI's Army ROTC.
"His performance [in ROTC] has exceeded everything we could expect," said Cook of Hoopes. "He has a very grounded personality and a great sense of leadership. He brings everyone together. He's a tremendous leader."
The youngest of three children in a non-military family from Latrobe, Pennsylvania, Hoopes knew from high school that he wanted to attend a military college. As high school graduation loomed, he began touring schools with strong Army ROTC programs. His second stop was at VMI, and right away he knew that he'd found what he was looking for.
"I saw so many opportunities to get involved in things," said Hoopes of his decision to come to the Institute. "There were so many opportunities to lead."
Over the course of the past four years, Hoopes has taken advantage of many of those opportunities. He's held rank in the Corps of Cadets, serving as a corporal his 3rd Class year and as an operations sergeant his 2nd Class year.
This year, he's a 1st Class private, but only because he's serving in the highest leadership role possible for ROTC—battalion commander, in charge of the approximately 900 cadets enrolled there.
Hoopes said he's drawn lessons from all of his leadership experience, both within the Corps and in ROTC.
"I've never had to lead that many people at once," said Hoopes, referring to his position as battalion commander. "You have to give your intent in a certain way that people can understand it and take it and accomplish what needs to be done."
In the Army, Hoopes noted, a battalion commander would typically be at the lieutenant colonel level. "It's learning how the actual Army functions," he commented.
But it was within the Corps that Hoopes received the training needed to succeed at a high level of leadership.
"The Corps has taught me a lot about how to read people and work with others," said Hoopes. "That's the big part about leadership. You've got to understand the people you're leading. And the Corps has taught me that. You've got to work with different kinds of people every year, and you have to learn how to motivate them."
During his 2nd Class year, Hoopes was elected to the Honor Court. After serving as an assistant prosecutor last year, this year he's the vice president for investigations, responsible for making sure that investigations into possible breaches of VMI's single-sanction Honor Code are conducted properly.
"It's a lot of extra work but I'm honored to have the position," Hoopes noted. "The Honor Code really allows this school to be what it is. …. Without it, very little would function the way it does."
Coming in to VMI, Hoopes declared a major in civil and environmental engineering, and he quickly gravitated toward the environmental engineering aspect of that major, while maintaining a near-perfect grade point average. He's a member of Tau Beta Pi, the national engineering honor society.
Once he commissions, Hoopes will serve as an environmental engineer in the Army's Medical Service Corps. Down the road, he'd like to earn his professional engineer certification and work for a technology company.
At VMI, Hoopes said he's learned the value of consistent effort and treating others with respect.
"If you work hard at whatever you're doing in life, you treat people the right way, and live a life of integrity and honor, there's nothing you can't do, essentially," he stated. "You can accomplish a lot by maintaining that lifestyle."
Prior to Hoopes, the last VMI cadet to hold the top slot on the Order of Merit list was John Luke Phillips '17. Before Phillips, the last cadets to hold the number one position were Jason LaCerda '07, who commissioned in a special ceremony at the White House, and Kyle W. Schriefer '06.
"It's the quality of the cadets that VMI is recruiting," said Cook of the Institute's success in producing top-ranked cadets. "VMI is definitely pulling in the right future leaders."
This year, nine other VMI cadets from the Class of 2019 were ranked in the top 10 percent on the Order of Merit list. They are John O'Donnell, Sarah Dolitsky, Steele Lamade II, Zachary Herring, Andrew Schifalacqua, Colton Curry, Hannah Gillan, and Jacob Drake—in addition to Washington and Lee student Collins Speed.
-Mary Price
-VMI-