Heroism, Resilience, and Sacrifice on Display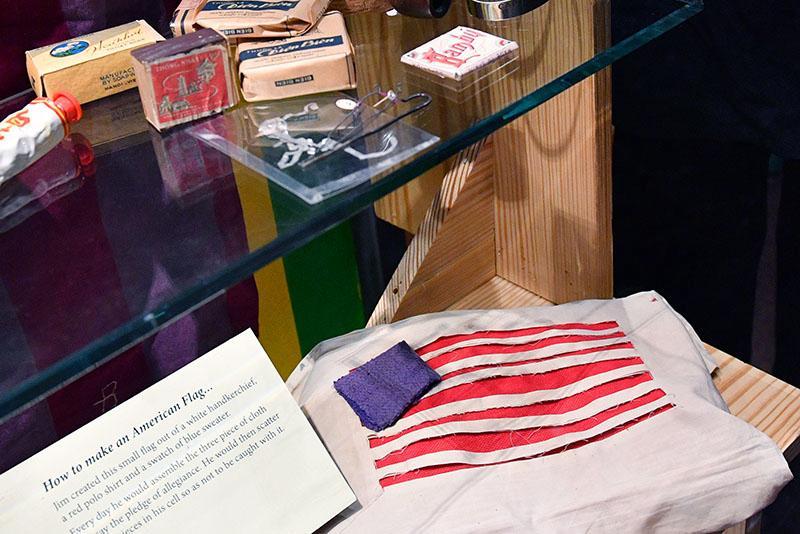 LEXINGTON, Va., Sept. 20, 2018—A new exhibit in the VMI Museum tells the remarkable stories of VMI alumni who fought in Vietnam through the objects they brought out of the jungle, including an American flag improvised at the Hanoi Hilton, a handmade Viet Cong rifle, and an X-ray of an M79 grenade lodged in a man's back.
More than 3,800 VMI alumni served in Vietnam, and a handful of those alumni entrusted the VMI museum with objects that tell their story.
Perhaps the most meaningful artifact in the exhibit came from James Berger '61, who was imprisoned in North Vietnam from 1966 to 1974. With a red polo shirt, a white handkerchief, and a scrap from a blue sweater, Berger created a symbolic American flag that could be assembled and disassembled to prevent its discovery.
"This is one of the most incredible artifacts in our collection of 30,000 pieces," said Col. Keith Gibson '77, director of the VMI Museum System. "Every morning, when he assembled those objects, he would recite the pledge of allegiance and think of his wife and everything he left back home."
Berger's flag rests among other objects he made during his long imprisonment—and among objects issued by his captors.
"I was sorting through these with Jim Berger before he died two years ago, and I asked him, 'Well, I see on here it says tú 4518. What does tú mean?' He looked at me and said, 'tú means prisoner.' Well, that's the whole story—tú means prisoner," said Gibson. The Vietnamese term for prisoner of war is tú binh.
While many objects in the exhibit reflect the stories of VMI alumni who graduated in the early 1960s, others were brought home by an older generation—soldiers, sailors, airmen, and Marines who had already fought two wars by the time the Vietnam War began.
Among those alumni was James Humphreys '35, who came across a Vietnamese civilian with a 40mm grenade lodged in his back. While other surgeons were unwilling to operate because of the risk of the grenade exploding, Humphrey constructed a sandbag bunker around the patient and removed the grenade.
Newsreel footage of the surgery plays on a screen and complements artifacts from the incident, including an X-ray of the civilian's back and Humphrey's Air Force fatigue jacket.
Those screens also show the 1st Class portraits of VMI alumni featured throughout the exhibit.
"Here's the important thing: That's Dr. Humphreys not as Maj. Gen. Humphreys, but as 1st Class Cadet Humphreys. You see that's the connection with today's Corps of Cadets," said Gibson.
Other objects, like the flight helmet worn by Mike Bissell '61, reflect extraordinary acts of courage.
Three times Bissell flew his Huey into heavy fire to rescue a severely wounded American military advisor. Bissell was hit in the neck and his crew chief was killed, but they lifted off from the third attempt, crash landed at the nearest medevac pad, and saved the advisor's life.
"He is awarded the Distinguished Service Cross, which is second only to the Medal of Honor", said Gibson. "This helmet was a participant in that moment of Mike Bissell's life."
Another corner of the exhibit showcases weaponry used by both sides in the conflict. A profoundly rustic jungle-made Viet Cong rifle stands in stark contrast near an M16.
"It says something about the resources available to them, but also their resourcefulness," said Gibson. "They were a very determined people to have been fashioning things like that to go up against an M16."
Many other unique objects with their own stories round out the exhibit—a NVA Boonie hat captured by then 1st Lt. Jim Joyner '67, boots still covered in the dust of the combat zone brought back by Russell Proctor III '65, a model of Philip Gioia '67 wearing tiger stripe jungle fatigues, a Virginia flag that George Barton IV '66 carried with him through three campaigns—all fragments of alumni experiences in the war.
The exhibit is the product of weeks of sustained work by Gibson and his staff, including cadet assistants Zachary Shaffer '20 and Patrick Layman '19.
"These are all Vietnam artifacts that alumni picked up off the ground and brought back—sandals and Viet Cong gear," said Layman. "It really allows you to go back in history and touch the past."
The exhibit opens to the public Saturday. Its opening coincides with the Center for Leadership and Ethics' symposium, The Vietnam War at 50: Critical Reappraisals. The stories that the exhibit tells offer an opportunity for participants—several of whom served in the war—to explore the history more deeply.
"We always enjoy the ability to collaborate across post with other departments and greatly appreciate Col. Gibson's ability to showcase VMI with such a timely exhibit," said Maj. Kim Connolly, assistant director for conferences and programs at the CLE. "During our conferences, we specifically build into our programming time for participants to hear about or visit locations on post so that their experience with us is that much more memorable."
-Maj. John Robertson IV
—VMI—