Honors Week Showcases Cadet Research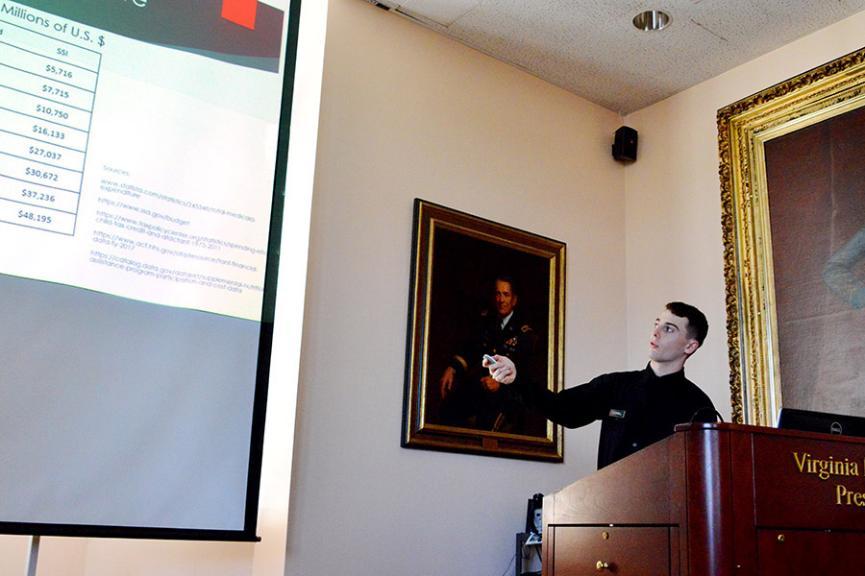 LEXINGTON, Va., March 15, 2019—Now in its 17th year of existence, VMI's Honors Week gives cadets pursuing Institute Honors a chance to share their research by giving presentations to the wider VMI community. This year, 19 cadets from a wide variety of majors took advantage of this opportunity, and a large number of cadets were inducted into academic honor societies.
Many of this year's Institute Honors cadets chose projects with a personal meaning to them—most often, projects informed by the communities in which they grew up or ones prompted by the VMI experience.
As a native of Norfolk, Virginia, Demetra Protogyrou '19 has long known that her coastal hometown is vulnerable to hurricanes and home to a very large population. Bordered on two sides by water, Norfolk is also handicapped by the fact that there are three tunnels which become choke points during times of high traffic. One of those tunnels, which is the primary route inland to safety during an evacuation, is the Hampton Roads Bridge-Tunnel, which is only two lanes in each direction as it runs under the Chesapeake Bay.
To come up with an evacuation plan for Norfolk, Protogyrou, an applied mathematics major, used operations research, which was developed during World War II to analyze the efficiency of military operations. Protogyrou referred to it as "the math behind logistics," as businesses often use operations research to find the best ways to minimize costs.
Using traffic data supplied by the Hampton Roads Transportation Planning Organization, Protogyrou developed an evacuation plan for residents in Norfolk's Zone A, which is the area most vulnerable to flooding.
Annika Tice '19, who helped to organize and run a camp for middle school girls, grew up in Java, Virginia, a small community in Pittsylvania County far from the suburbs of Northern Virginia and Richmond that are home to many of her peers. She attended very small and rural schools before going on to Chatham Hall, a private, all-girls school in Chatham, Virginia.
At the beginning of her presentation, Tice related that she came into high school self-identifying as unsuccessful, and when she met girls participating in a local middle school's after-school program, she discovered they felt the same way.
Working with Maj. Stephanie Hodde, assistant professor of English, rhetoric, and humanistic studies, in the spring of 2018 Tice began to plan a summer camp experience that would challenge and hopefully change that assumption. As part of that process, she delved deep into research about how adolescent girls develop a sense of their capabilities.
Held on and off post June 4-8, 2018, the Rockbridge Girls Leadership Exchange attracted 15 girls and three female cadets as counselors, including Tice, who's double majoring in English and modern languages and cultures (French), with a minor in psychology.
"The purpose was to focus on leadership and also STEAM, so science, technology, engineering, [arts] and math, to further their academics," Tice explained.
Also looking to alleviate the effects of poverty in his honors thesis work was John O'Donnell '19, who grew up in Goshen, New York, but was introduced to the neighboring, and much poorer, community of Newburgh, New York, through a middle school basketball team.
As a high schooler, O'Donnell began volunteering at the Newburgh Armory Unity Center, a community center focused on providing academic support and enrichment opportunities for youth. For his honors thesis, O'Donnell surveyed parents whose children were enrolled in the center's programs.
Specifically, O'Donnell, an economics and business major, was seeking to understand what can be done to address the cyclical nature of poverty: the fact that a child born into poverty is extremely likely to remain poor, despite federal spending on anti-poverty programs for over half a century.
The results of his research has led O'Donnell to the conclusion that local governments, rather than the federal government, should take a leading role in fighting poverty because they're more in touch with local needs.
"Local programs are a little more equipped to serve their community," O'Donnell commented. "They're more understanding of the specific problems and needs of the people they serve."
While Protogyrou, Tice, and O'Donnell chose projects aimed at communities off post, Kirk Kalian '19 took a different approach in choosing his Institute Honors topic. Ever since his 4th Class year, Kalian had dreamed of creating a searchable database that would allow alumni to trace their dyke line—the line that typically connects cadets of classes that are three years apart as each 4th class cadet is assigned a 1st class cadet as a "dyke" or mentor. Cadets that are six class years apart are in the same dyke line.
Kalian, a computer and information science major, envisioned a VMI version of a website such as ancestry.com, which allows users to conduct genealogical research. He titled his project "Dykelopedia."
The dyke line "creates a special bond that's unique to VMI," Kalian commented as he showed slides of objects such as stuffed animals that have been passed down the dyke line for many years. Knowing one's dyke line "would be a great conversation starter and increase your networking capability as a cadet," he stated.
While Kalian was able to construct a prototype of his database this year, he was only able to achieve a success rate of 88 percent for searches of three generations or greater because of errors in his sources, such as VMI's yearbook, The Bomb. That's a figure that Kalian would very much like to see improved.
Going forward, Kalian would like to pass his project off to another cadet who might complete it as a capstone project. "This is something I'm passionate about," he noted.
-Mary Price
-VMI-