'The Environment Belongs to All of Us'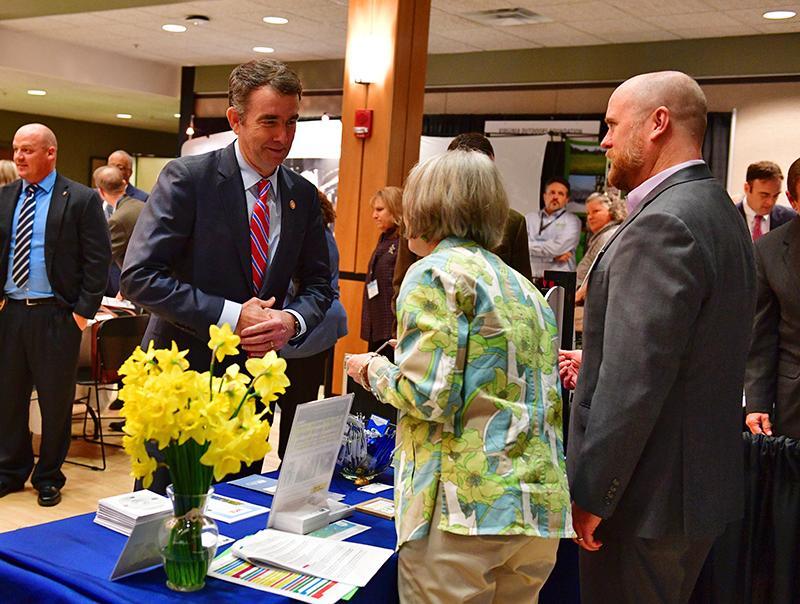 LEXINGTON, Va., March 27, 2019—In his second appearance at the Environment Virginia Symposium held at Virginia Military Institute, Virginia Gov. Ralph Northam '81 stressed his administration's commitment to protection and stewardship of the commonwealth's water, air, and land.
Now in its 30th year, the Environment Virginia Symposium brings together environmental professionals from all over Virginia to learn about topics ranging from environmentally sustainable building standards to electric vehicles to the future of recycling. This year's event, held March 26-28, brought approximately 550 attendees to post. Partners with VMI in hosting the event are the Virginia Department of Environmental Quality, the Virginia Department of Conservation and Recreation, the Virginia Department of Forestry, and the Virginia Environmental Endowment.
Northam, a biology major at VMI who went on to earn his medical degree and practice as a pediatric neurologist after serving in the Army, used his remarks today to talk about recent progress his administration has made on a wide swath of environmental issues.
"Protection of our environment and natural resources, particularly the Chesapeake Bay, is one of the reasons I decided to run for the state Senate in 2007, and it remains a top priority for me as your governor," said Northam, a native of Virginia's Eastern Shore. He stated that Virginia is partnering with the federal government, and with other states whose rivers and streams feed into the bay, to fully restore the Chesapeake to health by 2025.
Inland waters, too, need protection, and Northam said he was pleased to sign into law earlier this month legislation forcing the closure of four unlined coal ash ponds at power plants in Virginia. Three of those ponds are known to be leaking into the groundwater below them.
The governor also reiterated his opposition to drilling for oil off Virginia's coast, saying, "We simply cannot afford to risk an oil spill."
In terms of air quality, Northam stated that if regulations soon to be proposed by the Virginia Air Pollution Control Board are adopted, the commonwealth will become the first state in the South to regulate greenhouse gas emissions from power plants.
Extreme weather, possibly caused by climate change, is a topic much in the news—and one that Northam didn't shy away from, stating that the commonwealth is feeling the effects of climate change now. He mentioned the creation of the Virginia Coastal Resilience Master Plan as a contribution of his administration, along with the state's first flood awareness week, held March 10-16.
"Flooding is the most common and costly natural disaster in the United States, yet most Virginians are unaware of their risk," the governor stated.
Northam also highlighted Conserve Virginia, a land conservation initiative announced in the spring of 2018. "Conserve Virginia represents a new, data-driven approach to land conservation," he noted. With the use of smart maps, he explained, 6.3 million acres of land will be identified as a high priority for conservation.
"This tool will help ensure that we are using limited resources wisely and conserving the best of the best for the benefit of all Virginians," Northam said.
Northam also emphasized his administration's commitment to environmental justice, noting that he'd recently signed an executive order to re-establish a state advisory council on that topic. "The environment belongs to all of us," he stated. It is our birthright as Virginians and Americans, no matter the color of our skin or the size of our pocketbooks … We work to protect the environment because it benefits everyone."
Prior to Northam's speech, Virginia Secretary of Natural Resources Matt Strickler discussed pending environmental concerns in a moderated interview with Elizabeth Andrews, a professor at the College of William & Mary Law School and director of the Virginia Coastal Policy Center.
The conference wraps up Thursday. At 8:45 a.m. in Gillis Theater in Marshall Hall, plenary speaker Dawone Robinson, Northeast/Mid-Atlantic director of energy affordability with the Natural Resources Defense Council, will address conference attendees. In his professional role, Robinson focuses on promoting increased access to energy efficiency and renewable energy resources for multi-family and low-income households.
- Mary Price
-VMI-