'Probably the Best Training I've Ever Had'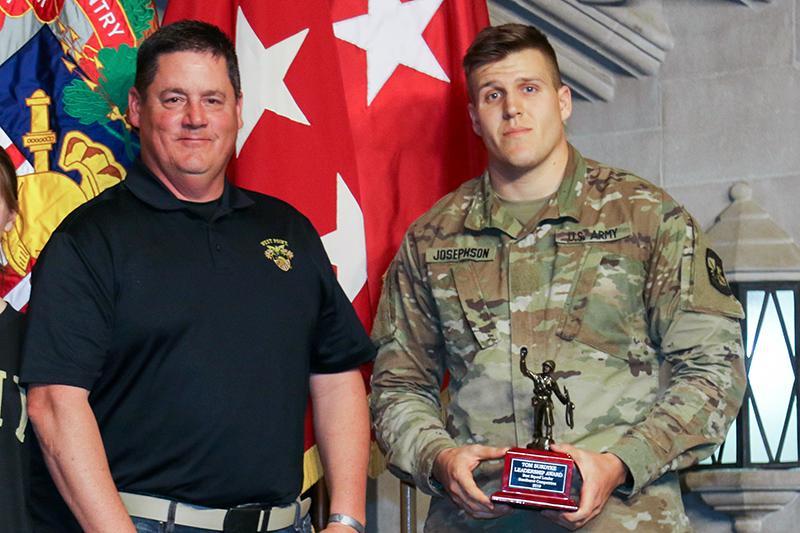 LEXINGTON, Va., April 17, 2019—"This award isn't about me. It's about the team."
That's what Adam Josephson '19 had to say about receiving the Tom Surdyke Award for best squad leader at the Sandhurst Military Skills Competition, held April 12-13 at the United States Military Academy at West Point, New York. The award is named for a West Point cadet who died in 2016 after saving a swimmer from a rip tide.
Ongoing now for 51 years, the Sandhurst competition is an extraordinarily grueling event meant to test a future soldier's physical and mental stamina, courage, decision-making ability, and leadership. Over the course of 30 hours, participants must complete a 27-mile course filled with obstacles, both land- and water-based, and bivouac—a circumstance that this year involved a night of relentless cold rain.
This year's competition attracted 49 teams from 13 international military academies, 16 Reserve Officer Training Corps programs, and four U.S. service academies. VMI's team, which had qualified by placing second at the U.S. Army Cadet Command's 1st Brigade Ranger Challenge competition at Fort Knox, Kentucky, last fall, placed fourth out of those 49 teams in the functional fitness event, and 27th overall. It was the first year VMI had fielded a team for the Sandhurst competition since 2005.
While the team had hoped for a higher placing, Sean Cook, an instructor with VMI's Marshall-New Market Army ROTC battalion and one of the team's four coaches, pointed out that of the 11 cadets comprising this year's team, seven will be returning to VMI, and hopefully to the Sandhurst competition, next year.
"We have a lot of strong rising seniors," said Cook. "Easily, we could do better [next year]."
Cook had high praise for Josephson, who is soon to commission as an infantry officer, saying, "He's committed himself 100 percent. He goes out of the way to set the example, and he's well-respected by everybody."
For his part, Josephson stressed the cohesion of VMI's team, which according to the rules of the Sandhurst competition, included two women. "These teammates are some of my best friends," he noted.
The VMI spirit pushed the team through situations that would have left others sour-faced and downtrodden, Josephson believes. Even after a night of almost no sleep on the wet ground, "We were just messing around, smiling, having fun, making the most of it," he said.
Participating in Ranger Challenge, Josephson said, has been an integral part of his leadership training at VMI. "This was probably the best training I've ever had," he stated.
"There's a difference between leading when you're at your best … and at your worst, and at this competition, we were at our absolute worst—tired and in a lot of pain," Josephson continued. "You saw everyone's true colors, and I was happy to see that everyone on the team was doing great—great spirits, great condition, and able to lead."
Next year's team, Josephson believes, has an excellent chance of placing higher.
"I hope next year's team will be even better than us," he stated. "People are going to watch out for VMI because we're a force to be reckoned with."
In addition to Josephson, cadets comprising this year's Sandhurst team were Cullen Godbold '20, Zach Herring '19, Dylan Stoltzfus '21, Joey Gummo '20, Joe Phillips '19, Josh Stacy '19, Anna McFarlane '20, Rachael Dickenson '22, Sam Mancuso '20, and Jesse Ventura '21.
Coaches for this year's team, in addition to Cook, were Capt. Dan Shear, Master Sgt. Alec Foster, and Sergeant 1st Class Jody Miller.
- Mary Price
-VMI-