Army Secretary Speaks of Character at VMI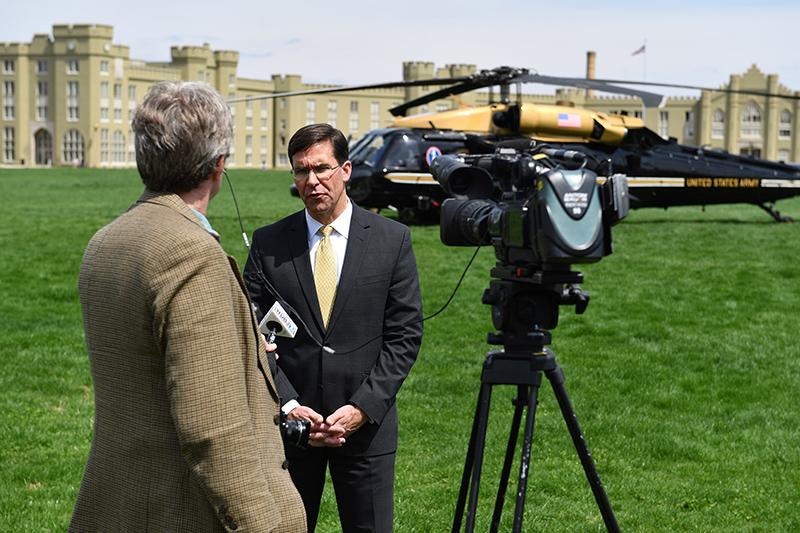 LEXINGTON, Va., April 15, 2019—Secretary of the Army Mark Esper praised Virginia Military Institute's commitment to producing leaders of character and commitment during a visit to the Institute Thursday, April 11.
Esper's visit to VMI, the first by an Army secretary in recent memory, came as part of a tour of the nation's senior military colleges designed to familiarize himself with their needs. He met with Army ROTC cadets at Virginia Tech last week, and his impression of the quality of officer candidates being produced by both schools was quite favorable.
"I've been very impressed by the generation of youth I've seen at these schools," said Esper, a 1986 United States Military Academy graduate who served on active duty for over a decade. He has served as secretary of the Army since November 2017.
Prior to becoming secretary of the Army, Esper worked on Capitol Hill in several positions, among them serving as national security advisor to then-Senate Majority Leader Bill Frist. He later served as vice president for government relations at Raytheon.
During his time on post, Esper had an office call with Gen. J.H. Binford Peay III '62, Institute superintendent—and the former commanding general of 101st Airborne Division, under whom Esper served during the Gulf War. He then participated in a roundtable discussion with Col. Michael Wawrzyniak, head of Army ROTC, and members of his staff, along with Peay and Col. James "Jamie" Inman '86, chief of staff.
"For us, it's an honor to have the secretary of the Army come to VMI and provide his outlook and strategic perspectives on what's happening across the Army," said Wawrzyniak. The Army ROTC head said that he took the opportunity to share with Esper the good things that are happening in VMI's Marshall-New Market Army ROTC Battalion, and then to highlight some needs, such as funding for scholarships, updated equipment, and a steady supply of quality cadre.
Esper's next stop was a town hall meeting with Army ROTC cadets, where he spoke about leadership and took cadet questions. Following that, Esper had lunch with a dozen cadets and toured post before meeting with members of the local media and departing via an Army helicopter.
In his remarks to Army ROTC cadets gathered in Gillis Theater in Marshall Hall, Esper stressed character as the central element of good leadership. Individuals can and will make mistakes of competence, he explained, but mistakes that reveal bad character are much more difficult to overcome.
"When it comes to issues of character, second chances are really hard to come by," the secretary stated.
"Improper use of resources, sexual harassment, lying, mistreatment of subordinates—unfortunately, these are all common reasons why leaders fail."
Responding to cadet questions after his short talk, Esper stressed the need for young officers to ask questions and be what he called "positive disruptors"—individuals who are willing to stand up and challenge the status quo.
"That takes moral courage—to stand up and ask the tough questions," he stated.
The Army, he noted, is not a place where orders must be followed blindly. "You have to be able to understand commander's intent … and then be able to act in way that may include disobeying orders because the orders are dated, or inconsistent with the situation that develops on the ground," Esper stated.
Wawrzyniak praised Esper's remarks to the cadets, saying that Esper's varied life experiences, having served in the military and in several civilian roles, brings depth.
"We have a secretary right now who's served in the Army, so he can reflect on what [the cadets are] about to experience," said Wawrzyniak.
-Mary Price
-VMI-