Class of 2023 Matriculates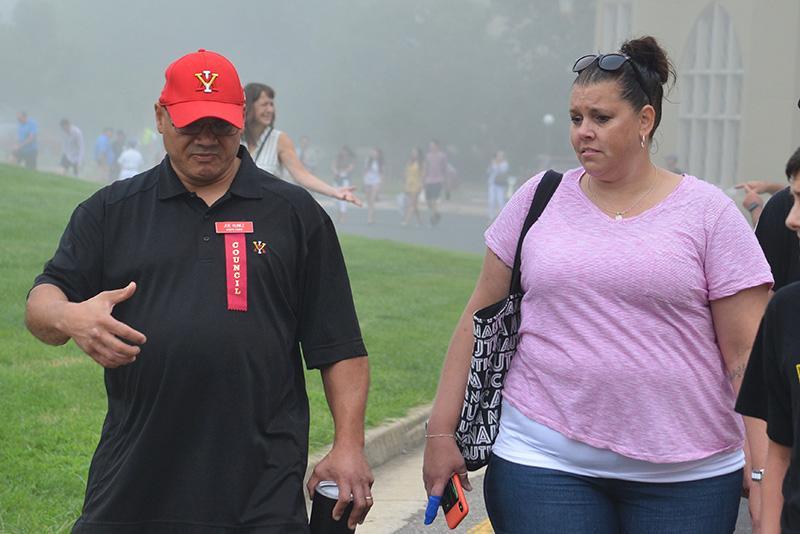 LEXINGTON, Va., Aug. 19, 2019—On a swelteringly hot Saturday, Aug. 17, the second largest entering class in VMI's 180-year history arrived on post for Matriculation Day.
The rat mass of 2020+3, which will become after Breakout the Class of 2023, numbered 515, a slight decrease from last year's record number of 519. The entering rats came from 34 states and three foreign countries. Sixty-one percent are from Virginia and 39 percent from out of state. Eighty rats are female, which comes out to just over 15 percent.
The group shows a decided preference for the STEM fields of science, technology, engineering, and mathematics, with 61 percent electing to major in those disciplines, and 39 percent in the liberal arts. This year's incoming rats had a high school grade point average of 3.70.
And while much about matriculation is quite predictable and consistent from year to year, what makes the process flow so smoothly isn't always apparent. To be sure, organization and coordination by nearly every department and agency on post is key, but so is the support of an organization perhaps overlooked: the VMI Parents Council.
In existence at VMI for the past several decades, the Parents Council acts as a liaison between parents of current cadets and the Institute. The day before matriculation, the Parents Council co-presidents hosted a reception in the Hall of Valor for incoming rats and their parents, a gathering that's typically attended by approximately 1,200 people.
And while the reception is the only official Parents Council event associated with matriculation, members of the group step up and help in a big way on Matriculation Day itself.
"We'll all be wearing our red ribbons, and it just gives [new cadet parents] a chance to go up to somebody and ask questions," said Amanda Nott, co-president of this year's Parents Council along with her husband, Chris, a few hours before the Friday afternoon reception.
Each year, a group of 60 to 70 Parents Council members volunteer to come to post and help with matriculation, with some arriving as early as 6 a.m., explained Col. Jeff Boobar '86, VMI's inspector general and coordinator of Parents Council activities. Many are from out of state and gladly make the long drive. Usually, the online sign-up sheet for helpers fills within hours.
"On Matriculation Day it's become a tradition where Parents Council people just volunteer to come here and help the Institute in any way they can," said Boobar, whose own parents were members of the group when he was a cadet. "It's become not mission essential, but really, really helpful for VMI."
A crucial role is helping with parking, as hundreds of vehicles arrive and all must be arranged in an orderly fashion on the Parade Ground. "The VMI Police would tell you that the traffic control people are absolutely essential because we don't have enough police officers to put everybody into spots," Boobar noted.
In addition to helping with parking, Parents Council members station themselves around post in various locations to answer questions and help families find their way around post. All wear a red ribbon to identify themselves as Parents Council members.
"It's basically just being there to help," said Nott, whose son, Patrick Nott, is a member of the VMI Class of 2020. "As a first-time parent, if you're not familiar with the school, this is all new … We didn't know anything about [VMI] before we came. It was a whole new ball game."
Mary Price
Communications and Marketing
VIRGINIA MILITARY INSTITUTE