Former Air Force Secretary to Speak at VMI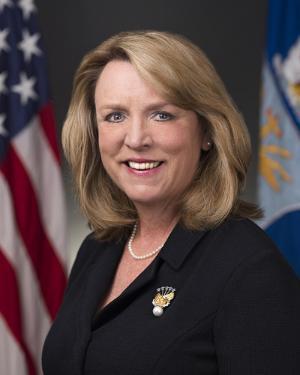 LEXINGTON, Va., Oct. 30, 2019 - A former secretary of the U.S. Air Force will address the Corps of Cadets at a convocation marking the 180th anniversary of the Founding of VMI on Nov. 11, the Institute's Founders Day.
Deborah Lee James, the 23rd Secretary of the Air Force, will take the stage at 11 a.m., Nov. 11 in Marshall Hall's Gillis Theater. Her talk will be the first in a series of public presentations in VMI's Courageous Leadership Series, and is free and open to the public.
From 1983 to 1993, Secretary James served as a professional staff member of the House Armed Services Committee. She served as assistant secretary of defense for reserve affairs from 1993 to 1998, following which she held a number of high-level positions in SAIC, a major defense contractor. She served as secretary of the Air Force from December 2013 to January 2017, responsible for organizing, training, equipping, and providing for the welfare of more than 660,000 active duty and reserve component airmen and civilian employees. She is the author of a newly released book on leadership, Aim High: Chart Your Course and Find Success.
"Secretary James is the ideal speaker to address the Corps on our Founders Day," said Gen. J.H. Binford Peay III '62, VMI's superintendent. "Her remarks will reinforce the theme of our leadership training this year: 'Leading in a Fractured World.' Her career has epitomized the best of leadership and service to the nation while addressing real-world problems at the most senior levels in government and in corporate America."

-VMI-