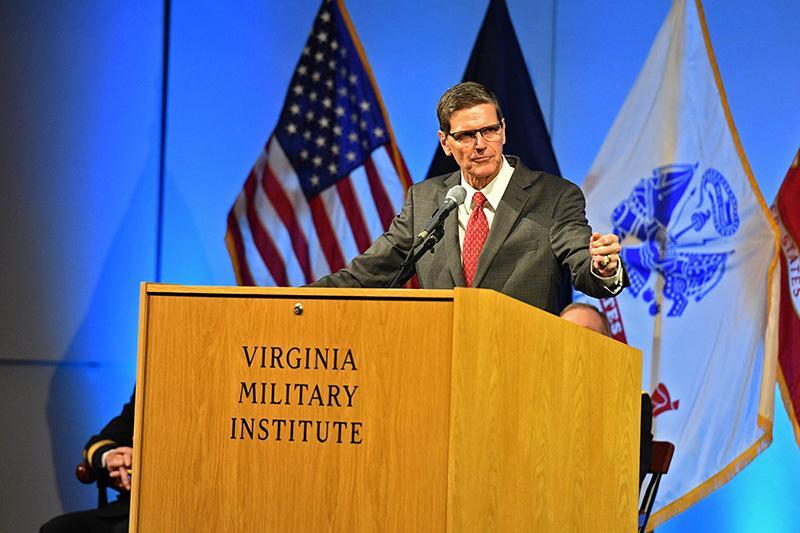 LEXINGTON, Va., Oct. 29, 2019—Retired U.S. Army Gen. Joseph Votel recounted earlier today leadership lessons learned from the fight to defeat ISIS in Syria—a fight that he experienced firsthand as commander of the U.S. Central Command (CENTCOM) from March 2016 to March 2019.
Votel's remarks were given as part of the H.B. Johnson'26 Distinguished Lecture Series and as part VMI's 10th annual Leadership and Ethics Conference, which took place on post yesterday and today. This year's conference, titled "Disruption: Challenging Leadership at Every Turn," drew approximately 200 attendees, including 95 outside guests from all of the nation's senior military colleges, plus a number of other colleges and universities. Those participants joined the Corps of Cadets and members of the community in Cameron Hall for the remarks.
Votel, a U.S. Military Academy graduate who retired from the Army in March of this year spoke about how he and others dealt with the disruption and sudden challenges they encountered when President Donald Trump tweeted on Dec. 19, 2018, that ISIS had been defeated in Syria and later that day called for U.S. forces to be withdrawn from that war-torn nation.
Votel admitted that the news of an imminent troop withdrawal was "quite a shock" to him, and he characterized the Syrian conflict as "an increasingly complex campaign and environment." The conflict there had produced a staggering number of refugees, with 3.6 million Syrians fleeing into Turkey alone since the war began in 2011.
The Syrian conflict, which grew out of the Arab Spring uprisings across the Middle East, had been difficult to respond to from the start. "The international response was very slow and uncertain," Votel stated. "ISIS took advantage of this chaos. They moved quickly. They overran resources."
ISIS found it easy to get and maintain a foothold, Votel explained, and its strength multiplied quickly thanks to an aggressive social media campaign that drew on young people's desires for belonging and economic security.
Adding to the complexity of what had started as a civil war within Syria was the presence of foreign actors such as Russia, Turkey, Iran, and Israel—and on top of that, the conflicts in the CENTCOM area of operations involved sustained urban fighting of a type that U.S. forces hadn't experienced on a large scale since World War II.
Halfway through the war, President Barack Obama's second term came to an end, and Trump took over as commander in chief. "That added an element of uncertainty and complexity as well," Votel noted.
Despite all of these challenges, Votel explained that success in defeating ISIS came through reliance on six key principles: a unifying organizational culture; pervasive trust; flat communication; strong relationships; decision making and risk assessment at the right level; and feedback loops for awareness and alignment.
Discussing each of these elements briefly, the Votel laid special emphasis on pervasive trust, and he shared a Civil War-era quote from Gen. William T. Sherman in a letter written to Gen. Ulysses S. Grant after the 1863 battle of Chattanooga, Tennessee: "I knew that wherever I was, you thought of me, and if I got in a tight place, you would come—if alive."
Votel said that kind of bedrock trust is vital to a military operation. "This sustained us throughout setbacks [in Syria]," he noted. "The idea of trust is extraordinarily important … It existed up and down the chain of command, and throughout our partners' chains of command."
In the area of decision making at the right level, Votel recounted once having lunch with a young Air Force officer who had flown an F-16 over Syria who wanted to make sure that his possible use of firepower in the region was in line with Votel's intent.
"It really highlighted for me an important aspect of our campaign—allowing decision making to take place at the right level while holding risk at the right level," Votel commented.
After concluding his remarks, Votel took questions from cadets and other conference attendees. When asked how the United States should respond to developing insurgencies in places such as Mozambique and Somalia, Votel replied that an international response should come much earlier when conflict seems to be brewing. "Things don't get better over time," he observed.
Continuing the conversation on disruptions and leadership, Votel next participated in a panel discussion in Marshall Hall with Frank Hoffman, a distinguished research fellow at the National Defense University, and Brandon Valeriano, Bren chair of military innovation at the Marine Corps University. The conference concluded with neuroscientist and technologist Poppy Crum speaking on, "Artificial Intelligence: Opportunities for Positive Disruption."
-Mary Price
-VMI-