Governor Announces Appointment, Reappointments to VMI Board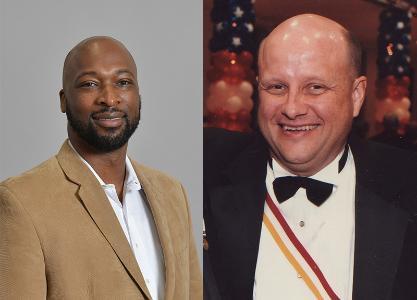 LEXINGTON, Va., June 15, 2020—Gov. Ralph Northam '81 has appointed Lester Johnson Jr. '95 of Richmond, Virginia, and Grover Outland III '81 of Arnold, Maryland, to four-year terms on the VMI Board of Visitors.
Johnson is the owner and managing partner of the popular Richmond restaurant Mama J's, one of the most notable soul food restaurants in the country. He and a fellow VMI alumnus launched the restaurant in historic Jackson Ward in 2009. Prior to opening the restaurant, Johnson was with Verizon Communications and Reynolds Metals Company.
In addition to a degree in mechanical engineering from VMI, Johnson holds a master's degree in business administration from Virginia Commonwealth University. He played basketball at VMI and was a captain of the team from 1994 to 1996. He was also a member of the Promaji Club.
Outland was editor-in-chief of The Cadet newspaper during his time at VMI and a class officer for two years. He is a Distinguished Graduate of the Institute with a degree in modern languages, and went on to earn a J.D. degree from the University of Virginia School of Law in 1984.
After law school and active duty for training as a combat engineer with the U.S. Army, Outland practiced law in Norfolk and then joined a commercial real estate firm in Virginia Beach while serving in the Army Reserve. He moved to the Annapolis, Maryland area in the late 1980s and has worked as an in-house attorney for several start-up and mid-size businesses since then, currently serving as senior vice president, general counsel, and a member of the boards of the privately held Tech USA companies. With his appointment to the Board of Visitors, Outland brings to a close 15 years of service on the VMI Alumni Association Board of Directors.
Reappointed to the board for an additional four-year term were Lt. Gen. Charles Dominy, USA, Ret., and Mr. Scot Marsh '81. Leaving the board after four years of service is Lt. Gen. Carl Strock '70,USA, Ret., and George Collins '62 is leaving after eight years of service
-VMI-