VMI Burial Site of Col. Claudius Crozet Shifts Yet Again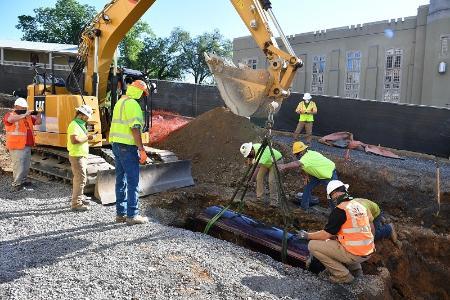 LEXINGTON, Va., June 15, 2020—The remains of Col. Claudius Crozet, first president of the VMI Board of Visitors, were moved Friday, June 12, to their fourth, and hopefully final, resting place.
Crozet, a French engineer who helped to map Virginia in the age of railroads and canals, is currently buried near Scott Shipp Hall on the VMI post. That building is currently undergoing a major renovation and expansion, and earlier this year, construction workers digging in the area accidentally exposed the vault containing Crozet's remains. The burial site has thus been shifted approximately seven feet north to allow for construction to continue at Scott Shipp.
Crozet was a graduate of École Polytechnique and a veteran of Napoleon Bonaparte's army. He emigrated to the United States in 1816, died in Richmond in 1864 and was first buried alongside his family in that city's Shockoe Hill Cemetery.
In 1939, while VMI was celebrating its centennial, plans were made to bring Crozet's body back to Lexington, but World War II intervened. It wasn't until 1942 that his remains came to VMI, and at that time, they were buried in front of Preston Library.
By 2010, another move for Crozet was in the works. Construction of Third Barracks and the new Lejeune Hall led to some post rearrangement, including moving the Society of the Cincinnati monument from the old Lejeune Hall to the front of Preston Library. Crozet's remains were moved next to Scott Shipp Hall.
Now that Crozet is reburied, he and the monument marking his grave are even closer to the building that was named for him in 1935: Crozet Hall.
"The visual connection will be stronger," said Col. Keith Gibson '77, director of the VMI Museum System, speaking a few days before the remains were moved. "It's going to be a win-win situation. It's an opportunity to make it a stronger design."
Mary Price
Communications and Marketing
VIRGINIA MILITARY INSTITUTE