TAPS—Col. D. Rae Carpenter Jr.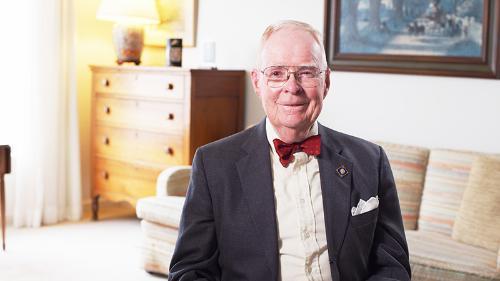 This story has been updated with a link to his obituary.
LEXINGTON, Va., May 29, 2020—The Superintendent regrets to inform the VMI community of the death of Col. D. Rae Carpenter Jr., former head of the physics department at VMI, at the age of 92. He passed away on May 26 at Kendal of Lexington.
After graduating from Roanoke College in 1949, Rae earned an M.S. in experimental physics and applied mathematics from Cornell University. He then served at VMI in the physics department for 40 years. During his time at VMI, he earned a Ph.D. in experimental physics from the University of Virginia.
In a decades-long partnership with fellow VMI professor and Roanoke alumnus Dr. Richard Minnix, the two created popular physics demonstrations for teachers and students. The Dick and Rae Physics Demo Notebook was purchased on every continent except Antarctica.
Col. Tim Hodges '80, professor and current head of the physics department, knew Col. Carpenter as a teacher, a colleague, and a member of the community. Hodges says, "He was always a leader, in the department and in physics education. He utilized small items and simple ideas to demonstrate physics concepts. Teachers would learn from him, and then go on to teach many students. His impact on the world and on cadets was immense. He's been instrumental at our church and in the community. I learned a lot from him."
The VMI Research Laboratories established the Carpenter Award to honor Dr. Carpenter's service to the VMIRL. The award is given to the best research proposal that is submitted to the VMI Research Committee.
His full obituary can be found here.
-VMI-