VMI's Environment Virginia Symposium Recognized with Green Award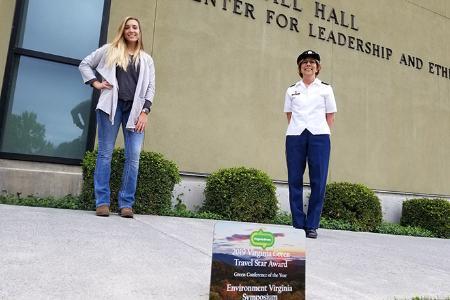 LEXINGTON, Va., April 22, 2020—The Environment Virginia Symposium, ongoing at VMI for more than three decades, has been recognized by the Virginia Green Travel Alliance with its highest award, the Virginia Green Travel Star Award, for 2019.
The Environment Virginia Symposium, which is hosted by VMI's Center for Leadership and Ethics, is co-hosted by the Virginia Department of Environmental Quality, the Virginia Department of Conservation and Recreation, the Virginia Department of Forestry, and the Virginia Environmental Endowment.
The symposium, which is regularly attended by Virginia's governor, brings as many as 600 public and private sector environmental professionals to VMI's Center for Leadership & Ethics each spring, although this year's conference was canceled due to the coronavirus pandemic.
The Virginia Green Travel Alliance, which was formed in 2017 through a partnership between the Virginia Tourism Corporation, the Virginia DEQ, and the Virginia Restaurant Lodging and Travel Association, gives a multitude of awards each year to recognize Virginia businesses, organizations, and individuals for their outstanding commitments to sustainability and contributions to green tourism statewide.
This year, the Environment Virginia Symposium is one of 18 honorees chosen to receive the Virginia Green Travel Star Award. It was named the green conference of the year.
"We are proud of this recognition of the Environment Virginia Symposium," said Kim Connolly, assistant director for programs and conferences at the Center. "It is a team effort of our staff, Parkhurst Dining Services, and VMI's Physical Plant to ensure that a conference of this size is environmentally sensitive."
Nine additional tourism businesses are being recognized with the Virginia Green Travel Leader Award for their continued commitments to environmental stewardship, and three individuals are receiving he Green Team All-Star Award for their efforts to lead their organizations' green programs.
Typically, the awards are presented in conjunction with the Virginia Green Travel Star Conference that was postponed in March due to the COVID19 pandemic. Because the conference was postponed, award winners are being announced on April 22 to recognize the 50th anniversary of Earth Day.
-VMI-