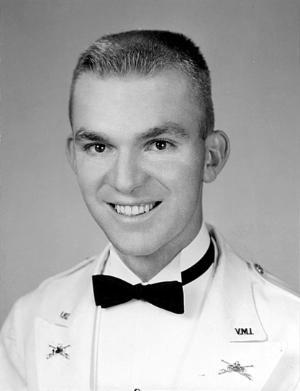 This story has been updated with information concerning funeral arrangements.
LEXINGTON, Va., Nov. 20, 2019— Col. Donald K. Jamison, VMI Class of 1957, who returned to VMI after graduation and served the Institute for years with distinction, passed away on Nov. 19, 2019, at the age of 85.
Gen. J.H. Binford Peay III '62, Superintendent, noted Jamison's dedication to both the Institute and the many cadets he impacted. "Don held our respect and all had enormous admiration for him, as both a professor and a coach through the years," Peay said. "During their cadetship and after graduation, faculty, staff, and the classified team came to him for guidance. For many, he was a very special friend. He served as the best example of what the Institute represents. He will be missed."
Jamison graduated from William Fleming High School in Roanoke and, after VMI, went on to earn his master's degree in civil engineering from the University of California at Berkeley. He taught briefly at VMI before going on to earn his doctor of philosophy degree in Civil Engineering Technology from the University of Wisconsin.
Jamison served as a professor of civil engineering for nearly 40 years, including serving as head of the civil engineering department from 1971 to 1978 and again in 1984 to 1991. He was a 2013 inductee into the VMI Sports Hall of Fame, served as the NCAA tennis coach from 1968 to 1984, and led VMI tennis to a 17-win season in 1981. He was the Superintendent's representative to the VMI Honor Court, an academic adviser to hundreds of cadets, and civil engineering professor emeritus.
"Col. Jamison was a gentleman and had a great dignity about him," said Dave Diles, VMI's current director of intercollegiate athletics. "He was humble and deeply invested in the entirety of the Institute. He touched generations of cadets, and our coaching staff, in particular, benefitted greatly from his wisdom.
A service will take place in Jackson Memorial Hall at Virginia Military Institute on Saturday, Dec. 7 at 10 a.m. Pastor Mike Wilkins will preside. Immediately following the service, the family will have a reception in Moody Hall.
Read his obituary in The News-Gazette.
-VMI-