VMI Transitions to Distance Learning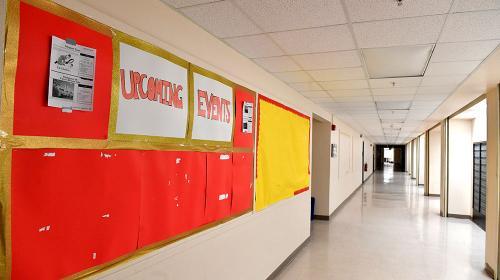 LEXINGTON, Va., April 2, 2020—With cadets and most faculty away from post this spring due to the coronavirus pandemic that has now killed more Americans than the terrorist attacks of Sept. 11, 2001, it might be easy to assume that VMI is "shut down." That, however, is far from the truth, as cadets finish their semester via distance learning and faculty and staff work to support that initiative.
For cadets and faculty, the spring semester resumed March 25 at the conclusion of spring furlough, with classes going completely online for the first time in Institute history. For their part, faculty have adapted well to a situation that no one could have envisioned even a few months ago.
"The dean has helped us approach a complex situation with real, effective guidance," said Col. Howard Sanborn, professor of international studies. "He has asked us to be clear in our communications, flexible with our arrangements, and adapt as needed. This has afforded us the freedom to explore a number of creative approaches that will permit us to carry on the mission of the academic program from a distance."
Cadets, too, have found a secure footing in the distance learning environment.
"VMI has taught me a lot about self-discipline and how to add structure to my life," said Alexandra Duklis '21, a psychology major. "So with taking online classes at home, I made a schedule for myself similar to the one I had at VMI. I wake up in the morning and get ready for my day. I attend my morning lectures via Zoom and do work for my morning classes, eat lunch, and then work on my afternoon class. After completing all my classes, I do some in-home workouts to keep up with my physical fitness."
Many VMI employees are working remotely as well, while others whose jobs cannot be done remotely, such as those who work in the barbershop, laundry, and physical plant, are taking a recently authorized public health emergency leave. Members of the information technology staff had been working both remotely and on post to ensure all members of the VMI community can teach, learn, and perform their jobs well no matter where they are geographically.
To safeguard public health, the VMI post is currently closed to visitors, and all events scheduled through May 16 have been either canceled or postponed.
One thing is clear: celebrating the Class of 2020 is important to the VMI community. They are invited to participate in a December 2020 or May 2021 graduation ceremony to be held in Cameron Hall.
-VMI-