Sanborn to Speak on With Good Reason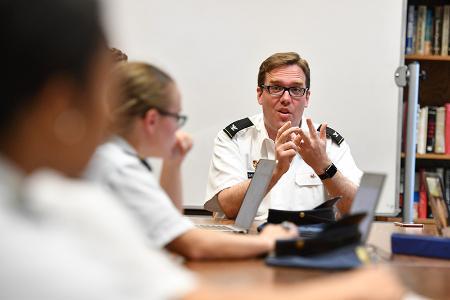 LEXINGTON, Va., April 6, 2020—A Virginia Military Institute faculty member will discuss his recent visit to Hong Kong on public radio's With Good Reason April 10-17.
Col. Howard Sanborn, professor of international studies at VMI and recipient of a Fulbright grant, will be featured on the program along with others, focusing on inducing compassion for your enemies. In the middle of heated protests, Sanborn arrived in Hong Kong last fall to teach about democracy.
In Lexington, With Good Reason will air Sunday, April 12, at 3 p.m. and Wednesday, April 15, at 8 p.m. on WMRA 89.9 FM. In Charlottesville, it can be heard at the same times on WMRA 103.5 FM, and in Harrisonburg, the show will air at the same times on 90.7 FM.
In addition to Sanborn, Daniel Rothbart of George Mason University will speak about bringing students together from conflict zones all over the world in the "laboratory for peace" program. Also, there will be a new podcast series shared called "Overcoming Extremism," hosted by former Charlottesville Mayor Mike Signer.
With Good Reason is sponsored by the Virginia Foundation for the Humanities. Audio files of the full program and its companion news feature will be posted the week of the show to the With Good Reason website.
-VMI-