From Brazil to Lexington to Tokyo: Commandant's Staff Member Heads to Third Olympic Games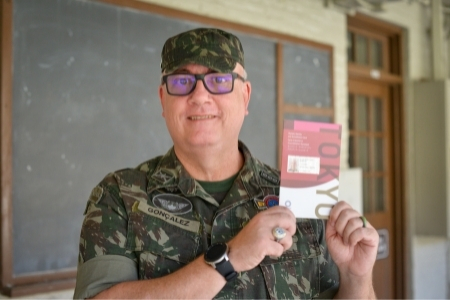 LEXINGTON, Va., July 22, 2021—Col. Marcelo Goncalez has a well-worn passport, a track record of travel to a multitude of international competitions, and a passion for a lesser-known Olympic sport: modern pentathlon. He's also a native of Brazil whose chance online encounter with a former VMI faculty member led not only to a move to the United States for himself and his wife, but also, in a roundabout fashion, to his current position as a member of the commandant's staff.
At the end of this month, Goncalez will travel to Tokyo, Japan, as a technical delegate for modern pentathlon—a job similar to that of a referee. It will be his third appearance at an Olympic-level competition, as he was the main judge at the 2016 Summer Olympics in Rio de Janeiro, Brazil, and also served as a technical delegate at the 2018 Youth Olympics in Buenos Aires, Argentina. He's also been a coach, judge, or technical delegate at six Pan American Games.
It's been a long journey for a graduate of Brazil's top military academy, Academia Militar das Agulhas Negras, who'd never once envisioned leaving his homeland, nor becoming involved with modern pentathlon, a sport that includes five disciplines: fencing, swimming, horseback riding over jumps, shooting, and running.
Goncalez's turning point came around 2005, when he was stationed with a jungle brigade in the Brazilian Army and taking a class with a sociological focus. A professor had assigned a paper, and Goncalez decided to write about how Army officers were trained in the United States versus in Brazil. As part of his research, Goncalez sent emails to individuals working at military schools in the United States.
One of them was Maj. Neal Messer, who was then teaching Spanish at VMI. As Goncalez tells the story, it was truly a random choice. "I'm a major, and he's a major. That's a connection, right?" Goncalez said of his thought pattern at the time.
That email sparked a friendship that endures to this day. Messer replied to Goncalez's email with the first paragraph written in fluent Portuguese, and the rest in Spanish. Sometime later, Messer came for a month-long visit with Goncalez and his wife in Brazil, and in August 2006, at the invitation of then-superintendent Gen. J.H. Binford Peay III '62, Goncalez came to VMI to observe matriculation.
By that time, Goncalez had become a lieutenant colonel in the Brazilian Army—and while he wasn't entirely sure what the future would hold, he knew he didn't want to try for general.
At that point, Messer planted the seed of an idea. "Why don't you come to the United States and work in a military school here?" he asked Goncalez. With Messer's help, Goncalez created an American-style resume, and in November 2011, he became commandant of cadets at Massanutten Military Academy in Woodstock, Virginia, and several years later accepted a position as cadet life supervisor at Randolph-Macon Academy in Front Royal. Since March 2019, he's been an officer in charge at VMI, taking responsibility for cadets from 4 p.m. to midnight.
But even as Goncalez has been crossing cultures and borders, he's also been staying involved with modern pentathlon, a sport he first encountered in the late 1990s. An avid fencer, he was initially recruited to help a pentathlon competitor who needed to improve her fencing skills, and his involvement snowballed from there as he added judging and acting as a technical delegate to his skill set. Since 2012, he's been one of 12 members of the technical committee of the International Modern Pentathlon Union.
"These 12 technical committee members are assigned to go to competitions not as judges, but more as managers," said Goncalez. "We supervise the competition as a whole."
While he's never been a competitor in modern pentathlon, Goncalez came to it with a very appropriate background. Baron Pierre de Coubertin, the founder of the modern Olympic Games, established the modern pentathlon to test the skills of Army officers, who at that time needed to not only run, swim, shoot, and fence well, but also be able to ride an unfamiliar horse. An event for men has been a part of each Olympic Games since 1912, and one for women was added in 2000. At the Olympic level, modern pentathlon is an individual sport, and this year, the Tokyo venue will welcome two sets of athletes: 36 men and 36 women.
It's a sport with many challenges, the disparate disciplines being foremost. "For pentathlon, normally the most difficult discipline for judges is the fencing," said Goncalez. "We used to call fencing, 'Chess played at light speed.' You need to have eyes adapted because things happen very fast." To make the fencing event even harder, there's no instant replay as there is for many sports.
Riding an unfamiliar horse over jumps is certainly challenging for the rider, who's had only 20 minutes to get to know the animal, but from a judge's perspective, there's not much to it, Goncalez explained. "If the horse stops at a jump, it's a refusal," he said. "It's easy to see."
What's more, Goncalez has an advantage when it comes to equestrian events: he knows how to ride a horse.
"In Brazil, when you are a freshman in the academy, equestrian is a mandatory subject," he stated.
Over the years, Goncalez has traveled to many foreign countries, including Egypt and Bulgaria, and later this year he'll be going to Poland. In 2019, he traveled to Japan for a test event, to make sure that everything would go smoothly for the Olympics, which were then slated to take place in 2020. His knowledge of five languages—Portuguese, Spanish, English, French, and Italian—has come in handy, and he's enjoyed the endless learning that comes with travel.
"We always learn something," he said. "Every single competition—I already have over 50 top-class competitions—in every single one, I learn something new."
Goncalez has also made friends all over the globe. "It's a very dynamic sport, and everyone knows everyone," he commented. "It's like a big family. It's not a very popular sport … there's not but that many people attending competitions."
And while Goncalez is looking forward to this year's Olympics, he's disappointed that spectators, who add so much enthusiasm, flair, and color to the games, won't be permitted due to a rise in coronavirus cases in Japan.
"It will be a totally different Olympics—not so much fun," he stated. Part of the magic of the Olympics is the mixing and melding of nationalities, Goncalez elaborated, and with no spectators, that aspect of the quadrennial athletic competition will be greatly reduced.
"It makes the Games more special when you put everyone together from different countries," he noted.
As he prepares to travel, Goncalez is looking forward to representing Brazil, where he still holds citizenship, the United States, where he hopes to become a naturalized citizen—and also VMI, where he holds what he calls his "dream job."
"I want to be a representative of VMI at the games," he said.
And while he's almost certainly among the few members of the VMI family who've directly participated in the Olympics, he won't be the first involved with modern pentathlon. Gen. George S. Patton, who graduated from the U.S. Military Academy but matriculated with the VMI Class of 1907, competed in the first modern pentathlon at the 1912 Summer Olympics, held in Stockholm, Sweden.
Mary Price
Communications & Marketing
VIRGINIA MILITARY INSTITUTE