'Something I Hold as a Privilege' - Shahbaz Heads to National Stage in Cross Country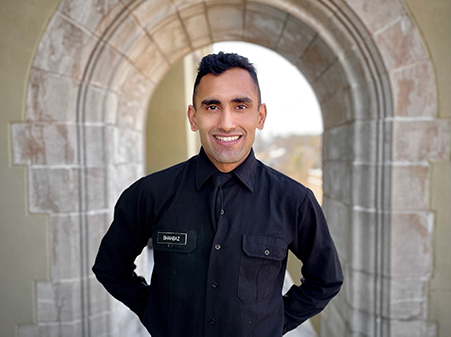 LEXINGTON, Va., Mar. 11, 2021—"I want to be the best."
Jahanzib Shahbaz '20 is a civil engineering major and a member of the track and cross country teams. Born in Pakistan, Shahbaz moved to the United States when he was three. He was very athletic growing up, with football being his primary sport in high school. While playing football, Shahbaz joined the track team to stay in shape. It was this first experience with track that sparked Shahbaz's passion for running.
"I started really enjoying it and how competitive it was," Shahbaz said.
When looking at colleges, Shahbaz was drawn to the challenging atmosphere of VMI. Many athletes in his hometown were considering VMI, and Shahbaz decided to look up the Institute online. He was impressed with the kinds of experiences cadets were having, and he thought it would be the challenge he was looking for.
"I chose VMI because it was so unique," Shahbaz said. "I knew I didn't want an ordinary experience."
At VMI, Shahbaz had the chance to join the cross country and track teams. While he had experience running track, Shahbaz had never run cross country before.
"I ended up running my first cross country meet for VMI," Shahbaz commented. "I think I finished pretty close to last. I was young and was just happy getting used to the experience."
As Shahbaz puts it, something happened that first year of cross country where his hunger for the sport grew exponentially. He finished low-ranked his first season, but Shahbaz became determined to improve and become a better runner. He went into his sophomore year season with optimism and excitement, and he ran much faster.
"I'm not going to let my team down," Shahbaz remembers thinking. "It's not going to be because I didn't work hard enough."
In the fall of 2018, Shahbaz redshirted and did not compete. Though he wasn't competing, Shahbaz threw himself into learning as much as he could about proper training and diet.
"You gotta know the sport, so I learned a lot about the sport," Shahbaz noted.
His hard work showed up his junior year, where he placed high and found much success. The coronavirus pandemic, however, created a new challenge for Shahbaz. Sent back home to Northern Virginia, with an extended amount of time on his hands, Shahbaz debated how he wanted to train. Some runners he knew had decided to take a break, but Shahbaz decided to use his time at home to practice and improve. In fact, his intentions were to win the conference!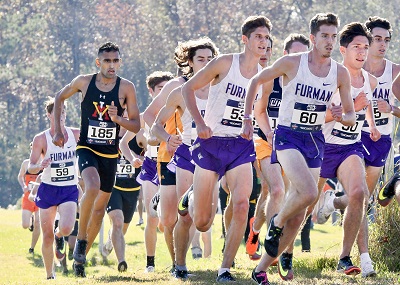 Shahbaz's diligence and hard work helped him run his best season yet his senior year, which led to his qualification for the NCAA Cross Country Championships meet. He is thrilled to be running at such a high level, and he is proud to represent VMI on the national stage.
"I want to be the best, and to be the best you have to compete against the best," Shahbaz said. "Not only that, I get to represent VMI at that stage, and that's something I hold as a privilege."
His success extends to performances at recent indoor track events. Competing in January, he broke the national Pakistani record in the 3,000-meter with a time of 8:12 to shatter the national mark of 8:30. When reflecting upon all his successes, Shahbaz is thankful for his teammates and coaches for their support and encouragement.
"I really learned how to work hard from the older runners," Shahbaz shared. "They took me out running, and they were patient… My coaches have always been looking out for me. They're key."
Shahbaz is also very encouraged by the support he's received from alumni. In addition to cheering him on, alumni have offered training advice and have even helped him pace his runs.
"When the alumni reach out to me, that means a lot," Shahbaz said. "I don't think that would happen at another school… Here, I'm always getting encouragement and advice from alumni."
As Shahbaz looks ahead to graduation, he is considering working full time in engineering or running while in graduate school. A dual citizen of Pakistan, one of his biggest goals is to represent Pakistan at the national level in running. No matter what he ends up doing, Shahbaz is thankful for his time at VMI and knows it has prepared him to succeed in running and in life.
On Monday, March 15th, NCAA cross country fans will have the opportunity to watch live coverage of the NCAA Division I Men's and Women's Cross Country Championships on ESPNU or the ESPN App. Live coverage of the NCAA Championships will be available starting at 12:30 p.m. Eastern time. The women's race will begin at 12:50 p.m. Eastern Time, followed by the men's race at 1:40 p.m. Eastern Time.
Eric Moore
Communications & Marketing
VIRGINIA MILITARY INSTITUTE
*Note: Photo of Cadet Jahanzib Shahbaz '21 competing at the Southern Conference Cross Country Championship in Nov. 2020 is provided courtesy of VMI Athletics. Cadet Shahbaz matriculated with the class of '20, but was reclassified to '21 for NCAA purposes. For this reason, we are referring to him as '21 in this article.