Tin Can Tells Story of Brotherhood, Survival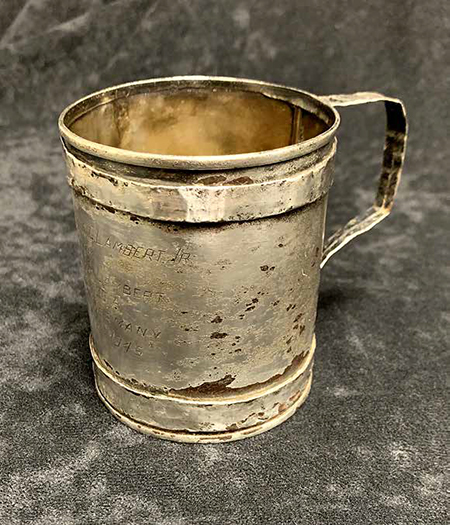 LEXINGTON, Va., Mar. 11, 2021—At first glance, a recent addition to the VMI Museum's collection seems to be nothing more than a piece of scrap metal.
It's a 1940s-era tin can, crudely fashioned into a drinking vessel by the addition of a handle. But if that cup could talk, it would tell stories of courage, brotherhood, loyalty, and a citizen-solider alumnus's will to survive.
On Jan. 29, Col. Keith Gibson '77, director of the VMI Museum System, did the talking for that cup as he shared its incredible story with members of the Board of Visitors External Relations Committee.
The story begins with Maj. Albert G. Lambert Jr. '38, who joined legions of VMI alumni in fighting the Axis powers during World War II. As a B-17 pilot for the Army Air Corps, he flew 25 missions successfully and thus became eligible to come home. Just as he did so, though, Lambert learned that his brother, Henry, was missing in action, and he became determined not to come home without him. He kept flying missions.
"On the 33rd and a half mission—it's the half mission, you know, that gets you in trouble—he's shot down," Gibson related.
Captured by the Germans in October 1944, Lambert was taken to Stalag Luft III, a POW camp specifically for pilots. There, miraculously, the two brothers were reunited. "I've been expecting you. What took you so long?" kidded Henry when he first saw Albert. As the Russians approached Stalag Luft III, the POWs were marched 365 miles to Stalag VII-A, Nazi Germany's largest prisoner of war camp.
Albert and Henry Lambert would remain at Stalag VII-A until the camp was liberated by the Allies on April 29, 1945. But during the dark winter of 1944–45, as rations grew more and more meager, their survival was questionable.
Salvation came in the form of a sympathetic guard, Sgt. Schultz, who smuggled in food for the starving prisoners. "He, at his own peril, snuck in half loaves of bread, a potato, onion, beer, to throw into the stew pot," said Gibson.
Sometime during that winter, one of the Lambert brothers made the cup so they could partake of that stew. The cup came home with them, and after the war, Henry Lambert had it silver plated and engraved with a dedication to his brother before giving it to him.
The fall of Nazi Germany wasn't the end of Albert Lambert's flying career. He transitioned into the U.S. Air Force when that branch of the service was established in 1947, served in the Korean War, and then retired as a highly decorated full colonel in 1953.
But those wartime experiences in Germany, of course, were not forgotten, and both Lambert brothers knew they hadn't survived because of their own efforts. During the postwar years, Albert Lambert initiated a sponsorship for Sgt. Schultz to come to the United States and become an American citizen.
"They discover that they, too, are brothers," said Gibson of Albert Lambert and the German sergeant. The friendship would endure throughout their lives.
Decades passed, and upon Albert Lambert's death in February 2000, the cup passed into the hands of his daughter, Caroline Lambert McCready. Approximately five years ago, Gibson related, McCready died, and her husband recently came across the cup as he was preparing to move to a smaller house.
It was McCready's husband who donated it to the VMI Museum, Gibson said, along with a letter that concluded, "Colonel Lambert took a special pride in being a member of the Class of 1938 at VMI. Please take care of his cup as there is not another one on the planet and it's being donated with the heartfelt wishes of Carol, his daughter."
The cup "is a participant in that story, just as the Lambert brothers and Sgt. Schultz were," said Gibson with emotion. "It is a witness."
At the conclusion of Gibson's story, the BOV committee members were silent for a few moments, digesting what they'd heard. "I'm not sure how to follow up," said Gene Scott '80, chair of the committee. "We should have saved you for last. I'm a little emotional right now."
For his part, Gibson was quick to point out that the cup is likely not the last object with an inspirational story that will find its way to the VMI Museum.
"This is the future of VMI as well," he predicted. "They'll be more stories like this in the future."
Mary Price
Communications and Marketing
VIRGINIA MILITARY INSTITUTE
*Please note: This story was part of the March 2021 Institute Report. The VMI Museum is currently closed to the public. You can learn more about the collections and view a virtual tour on the museum's website.