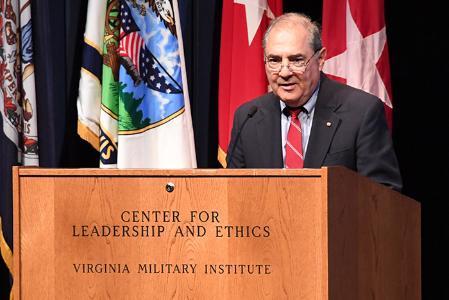 The Superintendent regrets to inform the VMI community of the death of Col. George Piegari at the age of 79. He passed away Oct. 4 in Roanoke.
Col. Piegari was a professor at VMI for 35 years and co-founder of the computer science program. He was very active in all aspects of the Institute, including serving as the department chair of mathematics and computer science; VMI's faculty athletic representative to the NCAA, the Southern Conference, and Big South Conference; and a major supporter of VMI theater. He retired in 2007, and the Col. George Piegari Computer Science Lab was dedicated in recognition of his contributions.
His teaching awards and achievements included the Distinguished Teaching Award, an honor he was given in both 1990 and 1996. In 2000, he received the VMI Corps of Cadets Faculty Mentor Award.
He is among the small number of non-graduates to be designated an honorary alumnus by the VMI Alumni Association Board of Directors. After receiving a bachelor's degree from Montclair State College, he received a master's degree from Pennsylvania State University and a Ph.D. from Vanderbilt University.
"He was the first person I met at VMI, and the loss hits hard," said Col. Troy Siemers, chair of the applied mathematics department. "George was well-loved by all and a favorite professor of many cadets. He will be deeply missed."