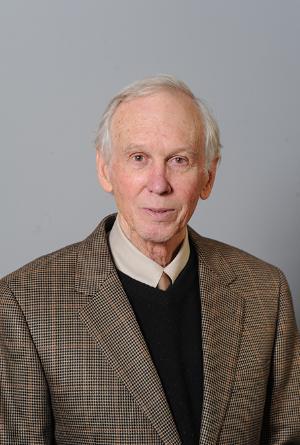 LEXINGTON, Va., September 15, 2020—The Superintendent regrets to inform the VMI community of the death of Mr. Louis H. Blair at the age of 81. He passed away on September 5 at his farm in Rockbridge Baths.
After graduating from UVA in 1961 with a degree in electrical engineering, Mr. Blair received his master's degree in the same field from the Massachusetts Institute of Technology.
Mr. Blair served as the Mary Moody Northen visiting professor in social sciences and was at VMI from 2007 until his retirement in 2017. Prior to coming to VMI, Mr. Blair was a visiting lecturer at Virginia Tech and served in a number of government offices and organizations in Washington, and was even elected to mayor of Falls Church, VA. He was also the former executive secretary of the Truman Scholarship Foundation. His experiences in the political world brought him great credibility in the classroom, especially during election years, as he helped cadets develop citizenship and a political philosophy of their own. He invited high-profile speakers to his classes and led several trips to Washington to visit with well-known leaders.
His legacy lives on with the national security minor available to cadets. This competitive minor, limited to about 20 cadets, has been quietly underwritten financially by Mr. Blair. He helped launch the program that offers unique internships and field trips, along with research and coursework that will prepare cadets for graduate school programs.
"I saw firsthand the care he took in developing the analytical abilities of our cadets. He pushed students to question their biases and dig into topics to access facts and provide evidence for their views," said Col. Howard Sanborn, professor of international studies. "Above all, Louis Blair was a friend – a friend to cadets and colleagues across post…It is this affection for those who came into his orbit that left an indelible imprint, and will serve as a. cherished legacy for those who knew him as a colleague, teacher, and mentor."
Mr. Blair's full obituary can be found here.
-VMI-