4,046 pull-ups. 17 hours. Nearly $2,000 raised for Warriors Heart Foundation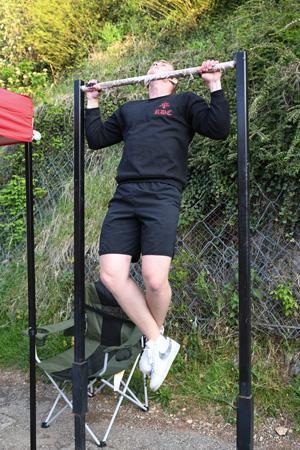 LEXINGTON, Va., May 9, 2022—Matthew Ehret '22 likes a challenge. Already balancing his international studies major and three minors along with preparing for Marine Corps Officer Candidate School after graduation, Ehret decided to push himself to his limits and support a cause dear to him. He set a goal to do as many pull-ups as he could within 24 hours to raise funds for Warriors Heart Foundation, an organization that supports the mental health and sobriety of military personnel and first responders. In addition, he hoped to best David Goggins' pull-up record of 4,030 reps within 24 hours.
On the rainy day of April 30, he set up a station at the outdoor track pull-up bars, and with the support of his BRs, he began to do 5 pull-ups a minute, a pace he kept up throughout the day. His brother rats brought him snacks, offered encouragement, completed reps with him, and helped tape up his hands. After 17 hours, he bested Goggins' record and ended at 4,046 pull-ups.
"I am extremely grateful for all of the support I received throughout the event," Ehret said. "I set out with the goal of beating David Goggins' pull-up record and raising money to support a great organization. I was successful on both accounts because of the support from my friends, family, and brother rats."
Eric Moore
VMI Photos by H. Lockwood McLaughlin
Communications & Marketing
VIRGINIA MILITARY INSTITUTE