VMI Theatre Finally Celebrates 50th Anniversary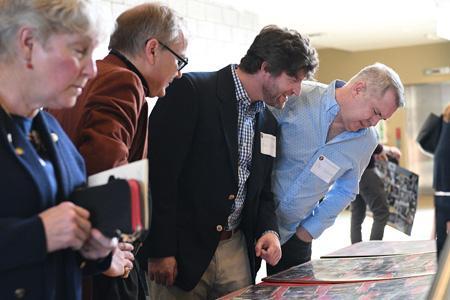 LEXINGTON, Va., May 7, 2022—VMI Theatre celebrated its 50th plus 2 anniversary with a reunion of past performers, both cadets and community members, at a reception on Saturday, April 30 in Marshall Hall, prior to the performance of "Tom Jones" by Henry Fielding, adapted by David Rogers. The coronavirus pandemic sidelined the VMI Theatre 50th Anniversary celebration in 2020, but the milestone celebration was finally able to happen.
Joellen Bland, director of "Tom Jones" and many other plays throughout her long tenure, enjoyed catching up with 30 theatre alumni cadets, from classes '72 - '20. "They have enriched my life in so many ways over the years. Theatre cadets are very special," said Bland.
Prior to the construction of Gillis Theater in Marshall Hall, productions were held elsewhere on post including Scott Shipp Hall, Cameron Hall, Lejeune Hall, Nichols Engineering, and Moody Hall. Joe Pateralski '82 recalled having to push a wheelchair back and forth between the post hospital and Scott Shipp Hall to be used in the production of "One Flew Over the Cuckoo's Nest." "I called myself 'Joe the stage manager,'" laughed Pateralski. "Many times, when we were in Scott Shipp, our performances would be disrupted by sirens from police cars and firetrucks on Main Street," he recalled.
Brad Norwood '83 shared his memories of "Shenandoah." "We loaded trucks and vans and hauled our set, props, costumes, and actors down the hill to Cameron Hall where we invaded athletic locker rooms. One truck carrying the tall stage flats forgot about the overhead bridge on Main Street, and the flats were literally flattened when they encountered that bridge," stated Norwood.
Sean Fisher '93 fondly recalls the dinner theatre production of "Joseph and the Amazing Technicolor Dreamcoat." "We rehearsed in the lower level of Lejeune Hall, which was a former bowling alley," Fisher laughed, "But the performance was held upstairs. It was so wonderful that that room was filled to capacity for that show. It was great!"
Along with the theatre cadets, 35 community performers attended the reunion including Jan Lowry, who became involved in VMI Theatre productions when she moved to Rockbridge County 12 years ago. "My husband and I auditioned to meet people, and we have been rewarded many times over! We enjoy working with the cadets. I am always in awe with how they can balance their studies, cadet life, and extracurricular activities. They keep me young," Lowry declared.
Shay Peters, a community actor who began performing with the group in 1989 stated, "It is always very special to work with the cadets and community theatre folks. I am always amazed how Joellen pulls it all together working around the cadets' schedules. She deserves a medal!"
According to Bland, some of the Theatre alumni had been in only one or two plays, others performed in shows every year of their cadetships. "Doing theatre at VMI creates a special bond that only those who know the thrill of performing on a stage, or running lights and sound for a play, or simply standing in the wings waiting for their entrance cues can truly understand. There is nothing else quite like it!" said Bland.
Marianne Hause
VMI Photos by H. Lockwood McLaughlin
Communications & Marketing
VIRGINIA MILITARY INSTITUTE