Baur Exercise Physiology Lab Dedicated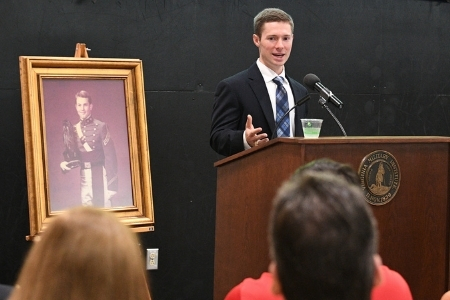 LEXINGTON, Va., Sept. 8, 2021—Family legacies at VMI are not uncommon, but most of them involve graduating from the Institute, passing down the family uniform, or even living in the same barracks room. The Baurs have a more direct legacy, one that impacts VMI academically and physically. A member of the family has taught a course on exercise physiology since 1989.
"It's our family business," said Maj. Dan Baur, assistant professor of physical education. "More specifically, it's our business to teach exercise physiology at VMI."
And now that legacy will be honored with the newly named Thomas S. Baur Exercise Physiology Laboratory in Cormack Hall.
The late Thomas "Tom" Baur graduated from VMI in 1975 with a degree in biology. He commissioned into the U.S. Army and served two years of active duty, primarily stationed in Korea. He then pursued a master's degree in exercise physiology at West Virginia University, finished it at Purdue University, and eventually returned to VMI to teach biology in 1988. With Baur's background in exercise physiology, he began a course on the subject at VMI. By 1992 Baur was a colonel, serving as department head of biology.
When Baur retired in 2013, his son, Capt. Steve Baur, began teaching the course in the physical education department. By then, the course was fondly known by cadets as the "Baur Power Hour." That same course was then taught by his sister-in-law, Capt. Katie Baur, who taught it until 2018 when her husband, Steve's brother Dan, took it over.
Tragically, Tom was struck by a vehicle while cycling in Rockbridge County and died in 2018.
"I can't think of anything more meaningful and inspiring than working in a lab named after my dad," said Dan during the dedication ceremony held on Sept. 5.
Close to 100 people attended the ceremony, many of whom were Tom's brother rats from the Class of 1975. Also in attendance were faculty and staff, including Maj. Gen. Cedric T. Wins '85, superintendent, current cadets, and alumni whose lives were all impacted by the Baur family.
Donations from the Class of 1975 led to an endowment in Tom's name which funds research for cadets participating in the exercise science minor. The endowment also includes the Thomas S. Baur '75 Award for excellence in exercise science. Two cadets have received the award so far: Aldo Vidro '21 and Cole Bordonie '20.
Bordonie attended the ceremony and spoke of the Baurs' impact on his life. He never knew Tom, but after the international studies major took Katie's exercise physiology course, he realized his interest was greater than he expected. With some help from Tom's widow Judy Baur in the registrar's office, Bordonie was able to take Dan's course as well. Now he is attending the same graduate program Dan completed at JMU.
"Working in the lab changed my life a lot while I was here," said Bordonie. "I never got to meet Col. Baur, but I know he would have treated me the same way as each of his family members who I've been fortunate enough to meet."
Physical education department head Col. Jimmy Coale knew Tom well and spoke of his quiet strength.
"I would be enlightened. I would feel much better and I knew I would leave with a smile on my face after having a conversation with Tom," said Coale.
Coale worked closely with Tom because Tom always maintained his connection to physical education. He assisted with Rat Challenge, a ten-week training program led by the physical education department for cadets during their first semester at VMI. And he helped develop the Summer Transition Program, which offers accepted students a chance to familiarize themselves with VMI, take a course, and get in shape before the Rat Line begins in the fall.
But one of Tom's most important roles at VMI was as the superintendent's representative to the Honor Court.
"His most famous saying was 'honor is a lifestyle,'" explained Dan. "I believe what he meant by this is honor is not something you achieve. It's something you pursue with effort and dedication."
By this measure, Tom served not only as a teacher to cadets but also as a mentor. He was a model of physical excellence who balanced his work life with his family life, including by sharing that work with them.
As Dan surmised, "I think for all of us, Dad's legacy can be summed up in three ways. He was a bridge, a teacher, and an example."


Kelly Nye
Communications & Marketing
VIRGINIA MILITARY INSTITUTE